Ken Boulter was putting up signs at the turnoff to his garage sale in Aldergrove on Saturday, May 27.
His house was one of at least 245 taking part in the Langley Township-wide garage sale, promoting the reuse of items rather than recycling or disposal. That's according to the Township, which organized the event and published an online interactive map to guide bargain hunters to registered sellers.
The actual number of sellers was likely higher because some apartment and townhouse complexes were registering once under one address, but had multiple units participating.
In reality, the number of sellers was likely higher due to some apartment and townhouse complexes registering once under one address, but having multiple units participating in each complex.
Because sales were listed alphabetically, by area, Boulter was expecting good traffic.
"We're top of the list," Boulter noted.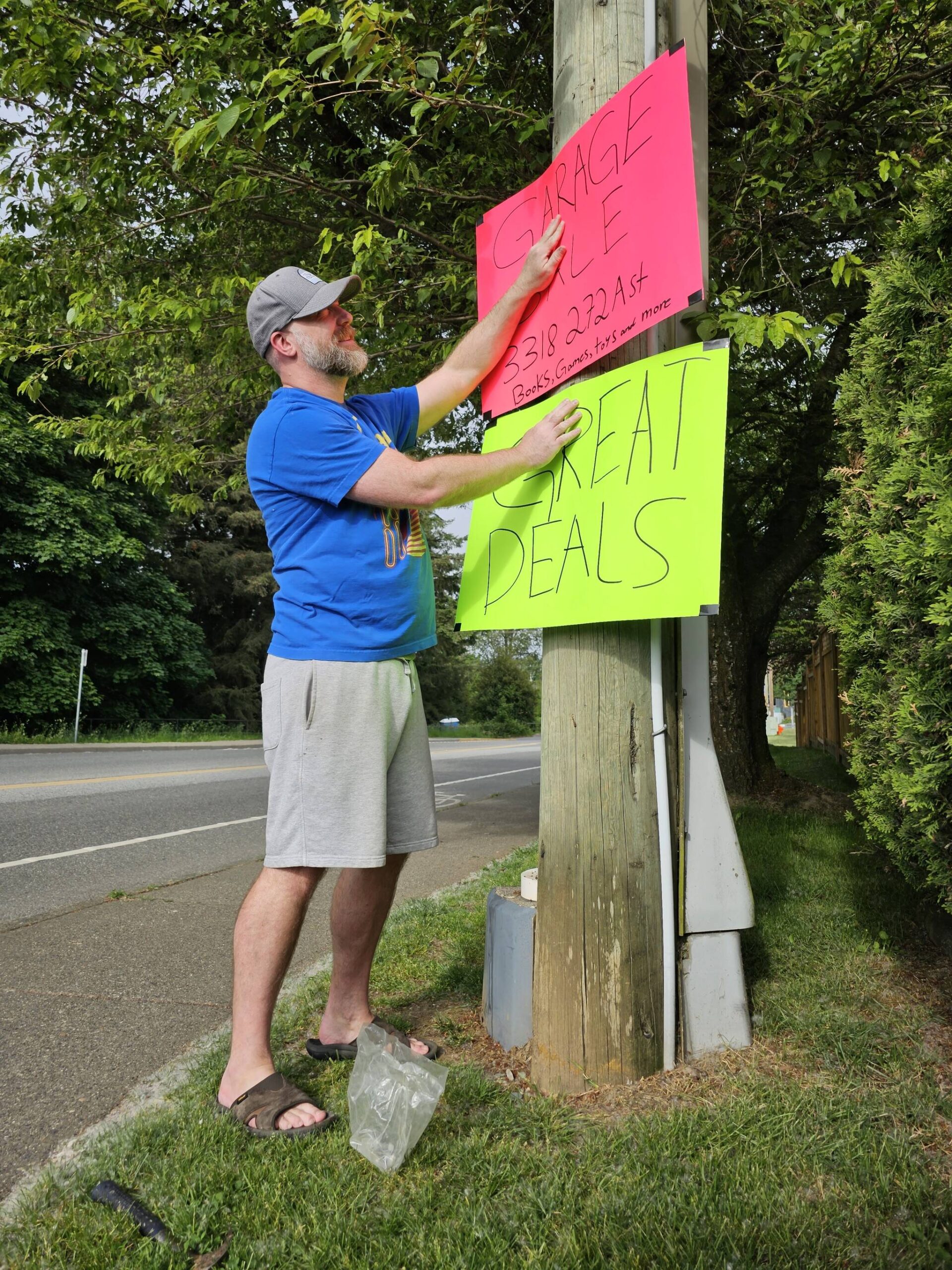 A few blocks away, it was the very first garage sale, ever, for Mary Ann and Udo, whose well-organized tables included unique antique bottles that Udo salvaged while diving.
"Victoria used to put their garage on barges [and dump them close to shore]" Udo told the Langley Advance Times.
Elsewhere, other first-timers, friends Bonnie Wykes and Lianna Aigro, were holding a multi-family sale, selling clothing from Lianne's former business, as well as housewares and more.
"I have homemade dog treats, with no preservatives [made from] oat flour easy, on the stomach and lots of different flavours," Wykes said.
It was also the first Township-wide garage sale for Teresa Czirjak, a Murrayville resident, who has been holding her own garage sales for 10 years.
Czirjak had an airplane altimeter for sale, and her cousin was selling a western saddle and bridles.
"I enjoy meeting everyone, meeting my neighbours – especially after COVID when we were so cooped up, and nobody could see anyone," Czirjak said.
Saturday's event was the third Township garage sale.
It suffered a two-year time-out after its inaugural launch in 2019, when the pandemic forced cancellations in 2020 and 2021.
More photos from the day can be viewed online at the Langley Advance Times Facebook page.
READ ALSO: VIDEO: Langley-wide garage sale had 299 participating households
READ ALSO: Aldergrove seniors centre had their annual sale on Saturday
With files from Kyler Emerson, Langley Advance Times
---
Have a story tip? Email: dan.ferguson@langleyadvancetimes.com
Like us on Facebook and follow us on Twitter.