Langley Gymnastics Foundation athletes had a great Nationals.
Ten MAG (Men's Artistic Gymnastics) athletes from LGF represented Team BC and brought back 13 medals from the 2023 Canadian National Championships held at Richmond Oval May 18-22.
"The results are truly something we can build off of as a club," said LGF head coach Kris Krunick.
"I'm proud of every athlete who represented Team BC and LGF."
LGF gymnast Blake Morfitt brought home six medals in the junior high performance category, and won second all-around in the junior 16-18 category, something Krunick characterized as a "huge accomplishment [considering it was] out of 52 athletes across this country."
READ ALSO: Langley's Blake Morfitt wins 2018 Bill Mackie High Performance Athlete of the Year
Morfitt, born and raised in Langley, has been with LGF since 2013 and is graduating this year.
"He is a great role model in the gym to the younger athletes and many look up to him as the leader in the gym," Krunick elaborated.
"He balances his 20-plus hours a week of training, with his academics and also works at events for the Langley Events Centre," Krunick commented.
"He has proven what is possible with hard work and dedication."
Morfitt has risen through the ranks of the sport over the past couple years.
Earlier this year he placed fourth all-around at the Elite Canada competition held in Saskatchewan in January.
At the Canada Winter games in PEI, back in February, Morfitt helped Team B.C. take silver – and won a gold medal on high bar, a first for an LGF competitor.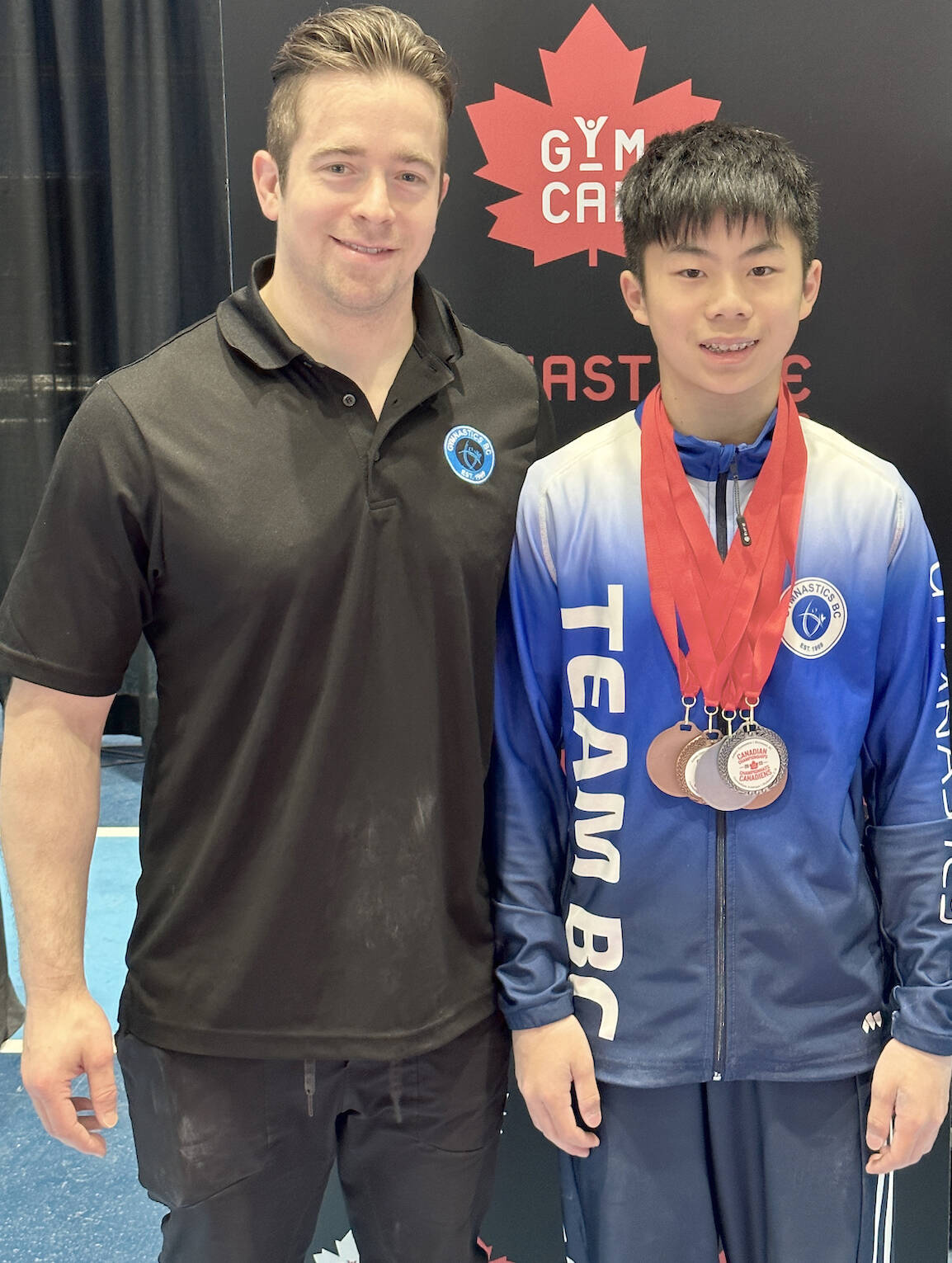 Ethan Lee, who commutes from Burnaby to train at LGF five days a week, placed third all-around in the Aspire category at the Canadian championships and won another four medals on individual events.
LGF Athlete results at the Canadian Championships
Blake Morfitt - Junior (16-18) 2nd AA, 3rd Floor, 1st Pommels, 2nd Rings, 2nd HB, Team 1st
Aiden Gonzalez - Junior (16-18) 6th HB
Parker Smith - Junior (14-15) 6th AA, 3rd HB
Reuben Dykstra - Junior (14-15) 6th HB
Keita Kuramoto - Junior (14-15) 5th Vault
Ethan Lee - Aspire - 3rd AA, 3rd Floor, 3rd Pommels, 2nd Rings, 2nd HB
Joshua Li - Aspire - 3rd HB
Jonathan Ogilvie - Aspire - 6th Floor, 6th Pommels
Ben Scarborough - Aspire - 5th Floor, 4th HB
Will Wright - National Open - 16th AA, 4th place Team
READ ALSO: Delisting gymnastics as school sports unlikely to have much impact on Langley athletes, coach says
---
Have a story tip? Email: dan.ferguson@langleyadvancetimes.com
Like us on Facebook and follow us on Twitter.