The last time Aldergrove's Kassidy Keith showed at Thunderbird Show Park, she brought the 2022 show season to a close with a win in the CSIU25-A MarBill Hill U25 Grand Prix.
READ ALSO: Aldergrove's Kassidy Keith and Fenelon WF win MarBill Hill U25 1.40m at Thunderbird Show Park
As the 2023 April Season Opener kicked off tbird's 50th Anniversary show season, Keith wasted no time returning to the front of a featured victory lap. She and longtime partner Havana topped the $10,000 Maui Jim Grand Prix 1.40m on Sunday, April 23, besting a five-horse jump-off.
"She was jumping very well today, so she was spending more time in the air than normal," Keith explained. "She was jumping so well, [but she was also] really quick across the ground and turned well."
Maui Jim Grand Prix from Chris Pack on Vimeo.
The lead repeatedly changed hands through the first three riders, all of whom jumped clear and would ultimately make up the podium. But it was Keith who would hold on to the lead, utilizing her mare's footspeed to put the competition away.
"She was so quick back to the double of verticals," Keith said. "That was probably a little bit where she had it. She was just a little bit faster."
Keith enters the season at tbird with a new set of "firsts" under her belt. The 25-year-old young professional spent a month in Europe over the winter, riding for well known horse dealer Desiree Johnson. She jumped her first World Cup qualifier in the fall with Havana, whom she's developed since the mare was four years old, and over the winter, they were fifth in a four-star ranking class at Desert International Horse Park in Thermal, CA.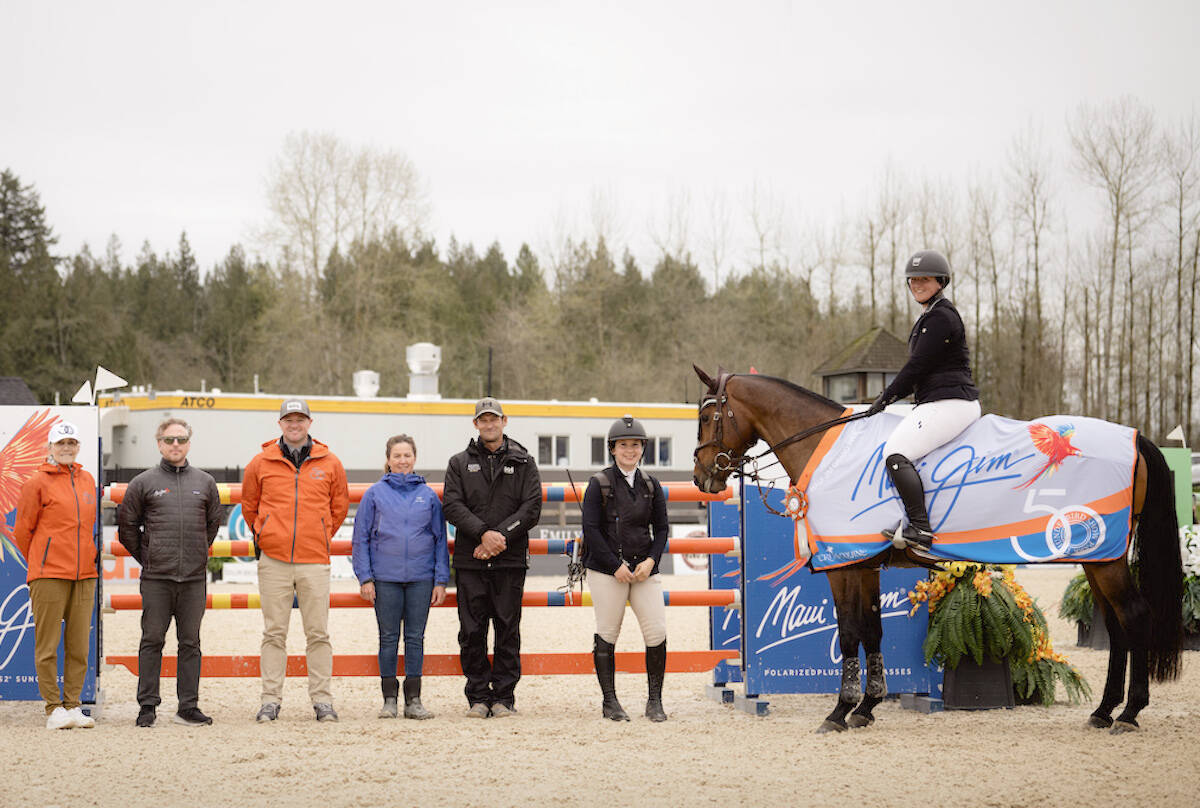 "In the fall, she and I jumped the World Cup together [in Sacramento], and after that, I felt like she could do almost anything," Keith said. "She has a heart of gold and always tries her hardest."
The pair has grown up together. They secured their first FEI (Fédération Equestre Internationale) ranking class win at tbird in 2021 and were MarBill Hill U25 series champions at the venue the same year. They continue to train out of Aldergrove-based Keepsake Farms, where Keith rides, trains and coaches alongside her mother, Cheryl Keith.
"I've been riding [at Thunderbird] since I was little. I started on ponies here," Keith reflected. "When I started, [we were based] on [Vancouver] Island, and it was a big deal to come here. Now, it's in my backyard, and it's amazing to have.
READ ALSO: Langley's Martinoff makes it happen in Emily Sandhack Open Classic at tbird
"We can school here between shows, and the level of the sport has come so far, even in the last five years here," she continued. "The way they have extended the season in September and added an FEI week in October—it's been great to bring the horses up here. The staff is lovely, the Tidball family is lovely, and it's always special showing here, because it's like home."
---
Have a story tip? Email: news@langleyadvancetimes.com
Like us on Facebook and follow us on Twitter.