One game doesn't make a season, but it was a much-needed step in the right direction.
The Vancouver Bandits picked up a much-needed victory to halt their five-game losing skid, defeating the Edmonton Stingers 84-74 on Friday night, July 21, at Langley Events Centre in Canadian Elite Basketball League action.
Central to Friday's positive result was a strong defensive effort – Edmonton was held to 26 points in the first half – and an unstoppable Nick Ward as the Bandits big man was too much for the Stingers.
Ward scored 18 points, hauled in eight rebounds, dished out two assists and drew seven fouls in the first 20 minutes alone and finished with 24 points, 12 rebounds and five assists.
And while Ward dominated the inside, Alex Campbell provided some much-needed outside scoring with 20 points, including a pair of triples – one of which was the game-winner – during Target Score time.
"I am a shooter so if I get the opportunity, it is up," Campbell said. "Doug (Herring Jr.) saw me on the wing, so I raised (my hand) and luckily knocked it down."
READ ALSO: Coach frustrated by fourth straight Vancouver Bandits loss
READ ALSO: A good start ends badly for Vancouver Bandits against Honey Badgers
Despite the lengthy-losing streak, Campbell said the players have kept their heads up during the struggles.
"Believe it or not, we have an optimistic group," he said. "Today, it felt good to stop the bleeding and get the win. It is just about building towards Championship Weekend."
Bandits head coach and general manager Kyle Julius said that replicating the necessary urgency of needing victories has been a challenge, knowing they have a spot in next month's Championship Weekend as the host team.
"That has been the conversation all season long, just figuring out how we can get better day-by-day so we can be our sharpest for that particular day," he said.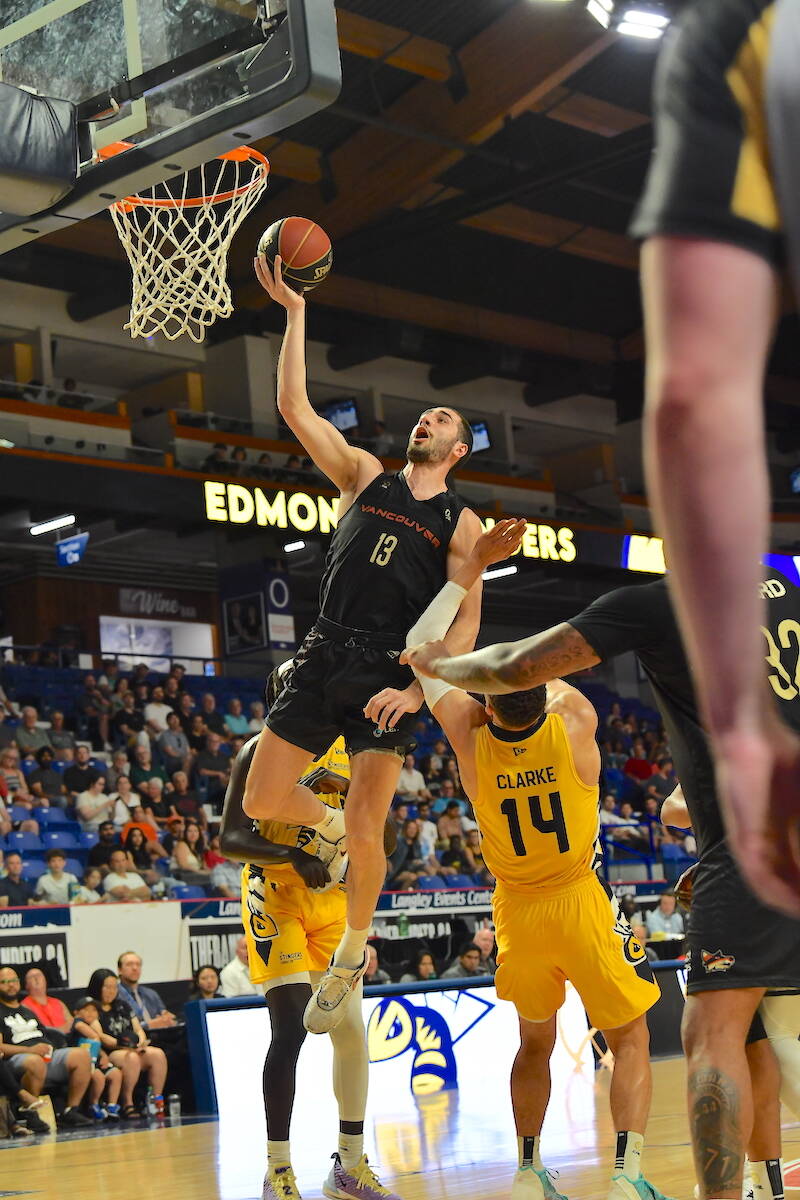 Defensively on Friday, he said the team followed their assignments, while on offence, their dual big-man combination of Ward and Giorgi Bezhanishvili works best when the inside game is complimented by an outside game.
And they finally received that on Friday, especially in the second half as they hit five of their 12 three-point attempts. For the game, the team was 8-for-26 (30.8 per cent).
Vancouver is right back in action on Sunday night as they host the western conference-leading Winnipeg Sea Bears (11-7) at Langley Events Centre on Fan Appreciation Night in the Bandits' final regular season home game before they wrap up with a pair of road contests.
Tip-off is scheduled for 7 p.m.
---
Have a story tip? Email: news@langleyadvancetimes.com
Like us on Facebook and follow us on Twitter.