Platform sharing when it comes to electric vehicles is quite common. One of the best examples is General Motors, which has developed its Ultium battery platform for numerous vehicles.
In the case of the all-wheel-drive luxury Audi E-tron GT that first arrived for the 2022 model year, it shares a platform with the Porsche Taycan. Both brands are part of the Volkswagen Group.
As you might expect, then, the E-tron GT is about the same size as the Taycan and both have the same distance between the front and rear wheels.
With similar proportions, the differences largely comes down to styling and which brand you prefer, and a case could be made that the E-tron is more attractive. From the body-colour nose with its aggressive-looking side air intakes, to the seductive sweep of the rear deck and the neatly creased fenders and lower door panels, the E-tron GT stands apart from most other sedans on the road, even the Taycan. The E-tron GT also makes the Tesla Model S appear downright frumpy by comparison.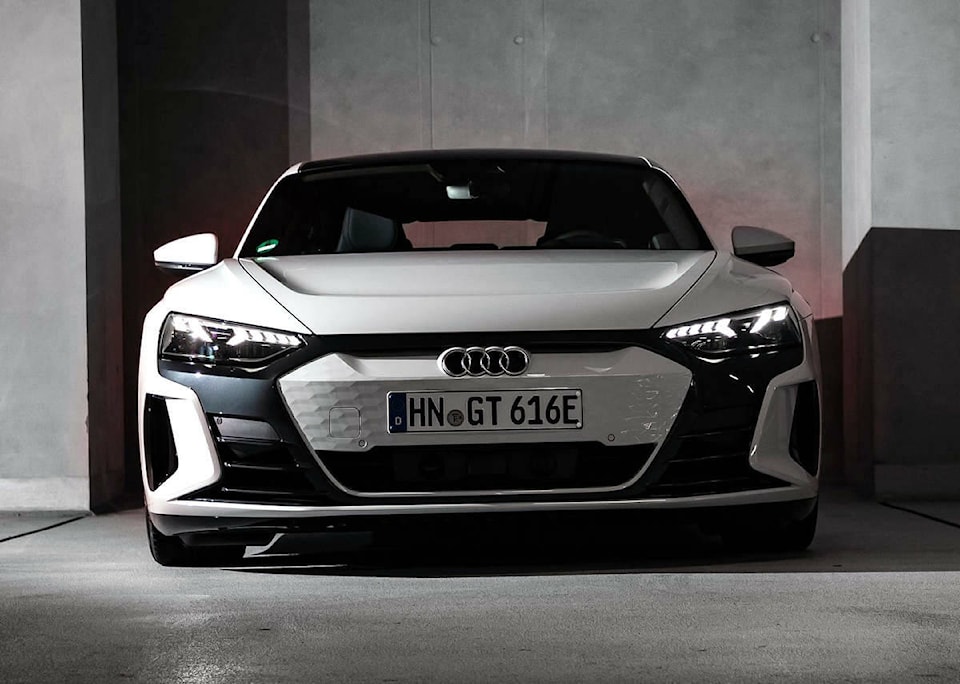 Once aboard — not a simple task for front-seat riders owing to the GT's low roofline and invasive (wide) door pillars — you're greeted by a premium-look dashboard. It has a configurable 12-3-inch driver's digital instrument display located behind the flat-bottom steering wheel, and beside it there's a straightforward 10.1-inch touch-screen. The wide floor console houses the direction-control sliding switch plus a touch-sensitive volume control button for the audio system.
The rear seat is easier to enter and exit but adult-sized passengers will have to scrunch down due to the low roof and ride height. The trunk is on the small side but there is a passthrough in the seatback that folds flat when necessary. There's also a small storage space beneath the hood that's ideal for the GT's charging cable and perhaps an overnight bag.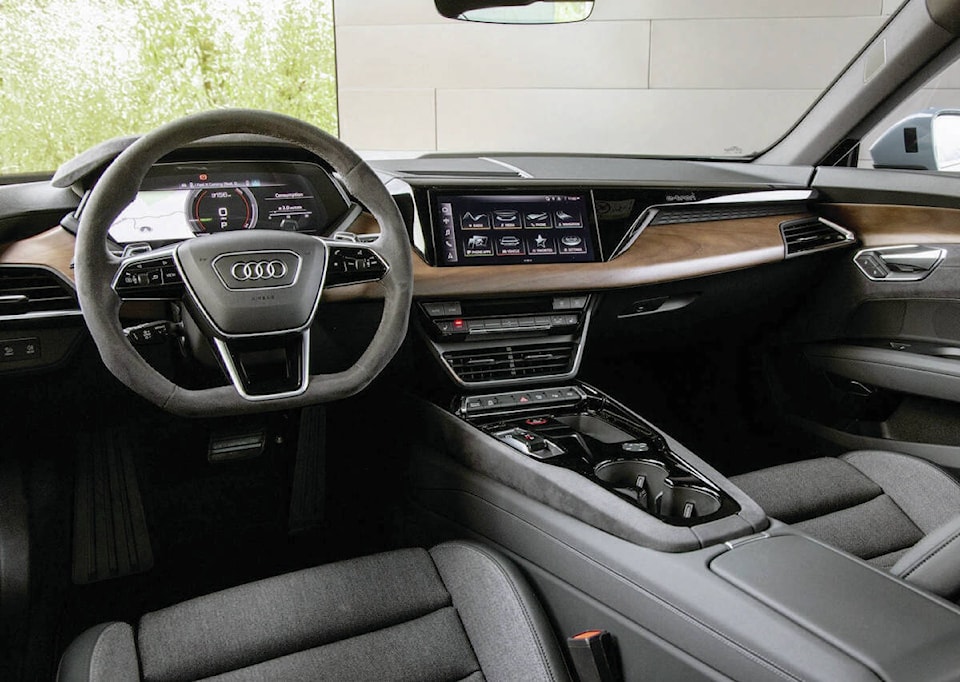 So, the E-tron GT can be a challenge to get into, but all is forgiven once you're nestled behind the wheel. The base model has front and rear electric motors that produce a maximum 522 horsepower and 472 pound-feet of torque. In the RS E-tron GT test vehicle, those numbers increase to 637 horsepower and 612 pound-feet. Both maximums come by way of a driver-activated Boost mode.
The GT gets a two-speed automatic transmission, which is unusual for an EV. The first gear makes for extra-quick acceleration before kicking into second gear to lower electric consumption.
Maximum range for the base model is officially rated at 381 kilometres, decreasing slightly to 371 for the RS. The test car showed about 440 as the maximum. Those modest values will certainly take a hit under aggressive acceleration, which is what the GT is designed to do.
According to Audi, the base zero-to-60-mph (96-km/h) time is 3.9 seconds and the RS is rated at 3.1. Both times are with Boost mode and launch control activated. Put your left foot on the brake, floor the accelerator and then release the brake. And hang on. Audi advises you to make certain your head is positioned firmly against the headrest to avoid undue (and possibly painful) neck strain.
For both models, the l/100 km equivalency is rated at 2.8 in combined city/highway driving.
Recharging to 80 per cent from five per cent will take about 22 minutes when hooked to a 480-volt DC fast charger. With a 240-volt home station (also what you'll find at malls and hotels), expect a full charge overnight.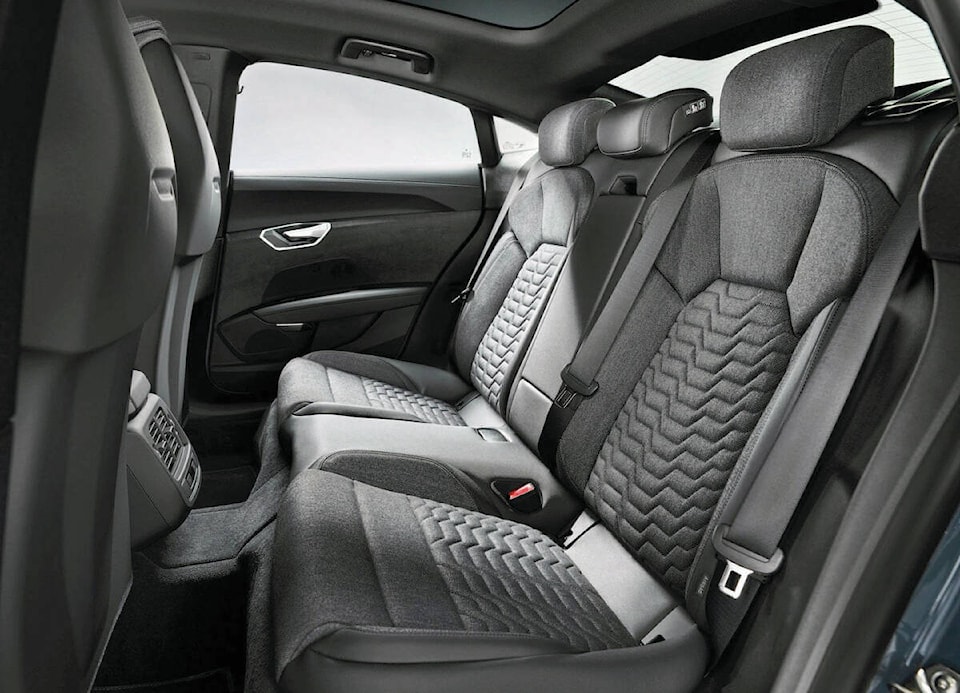 Beyond the rapid pace and precision handling and steering — aided by the available rear-wheel-steering setup — the E-tron really feels like a sports car; if a 2,365-kilogram sedan can be called that. Even better is its ability to tackle uneven road surfaces without undue harshness, thanks to the adjustable air suspension system. Make no mistake, this is an incredible driving machine with impeccable road manners.
The E-tron GT starts at $144,950, with destination charges, while the RS is $187,750. Both versions come loaded up with a range of comfort and driver-assist technologies, but the RS can be fitted with carbon-fibre trim, carbon-ceramic disc brakes, leather interior and 21-inch wheels (20-inch wheels are standard). A panoramic fixed-glass roof is a no-charge option.
Anyway you slice it, the E-tron GT is an expensive acquisition, one with several clear flaws that have nothing to do with the vehicle being electric, but if the ultimate in Audi performance is on your wish list, this is the one to get.
Thanks for the assist, Porsche.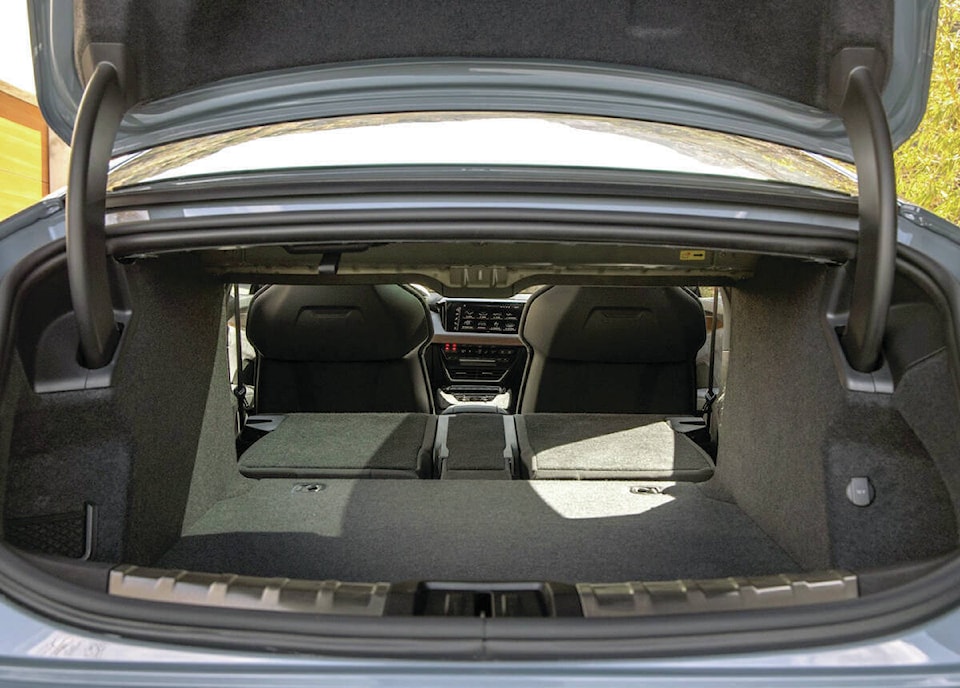 What you should know: 2024 Audi E-tron GT
Type: All-wheel-drive midsize electric luxury sedan
Motors (h.p.): Front and rear electric (522; 637, maximum)
Transmission: Two-speed automatic
Market position: The E-tron GT is a unique combination of luxury sedan and performance sports car. It's not designed for mass audience appeal; it's more for the enthusiast who can bring more than one passenger along to enjoy the fun.
Points: Exceptional good looks turns plenty of heads. • Front-seat entry and exit will prove a challenge for many adults. • Front and rear electric motors provide supercar-level zero-to-100-km/h performance. • Two-speed automatic transmission for this particular application actually makes sense. • Vehicle range is lower than some other premium EVs.
Active safety: Blind-spot warning with cross-traffic backup alert (std.); active cruise control (std.); front and rear emergency braking (std.); inattentive-driver alert (std.); lane-departure warning (/std.); pedestrian warning (std.).
l/100 km equivalency (city/hwy comb.): 2.8
Base price (incl. destination): $144,950
BY COMPARISON
Tesla Model S
Base price: $100,000
Properly optioned, the AWD EV is very quick.
Up to 652 km of range.
Porsche Taycan
Base price: $144,900
Lower base price that the E-tron because AED is optional. Up to 750 h.p.
Genesis Electrified G80
Base price: $144,900
New-for-2023 365-h.p. AWD EV comes fully loaded. Range is 450 km.
– written by Malcom Gunn, Managing Partner at Wheelbase Media
If you're interested in new or used vehicles, be sure to visit TodaysDrive.com to find your dream car today! Like us on Facebook and follow us on Instagram