At the Model A Sunday event in Fort Langley, Aldergrove resident Danny Suveges was describing the moment when he realized his new hot rod was quicker than he thought, and how it was kind of scary.
A few years ago, he'd just dropped a big-block 450 horsepower Chevy motor into a 1927 Ford chassis, and was heading back from the Lynden border crossing along 264th Street when he saw the light about to change up ahead at the 16th Avenue intersection.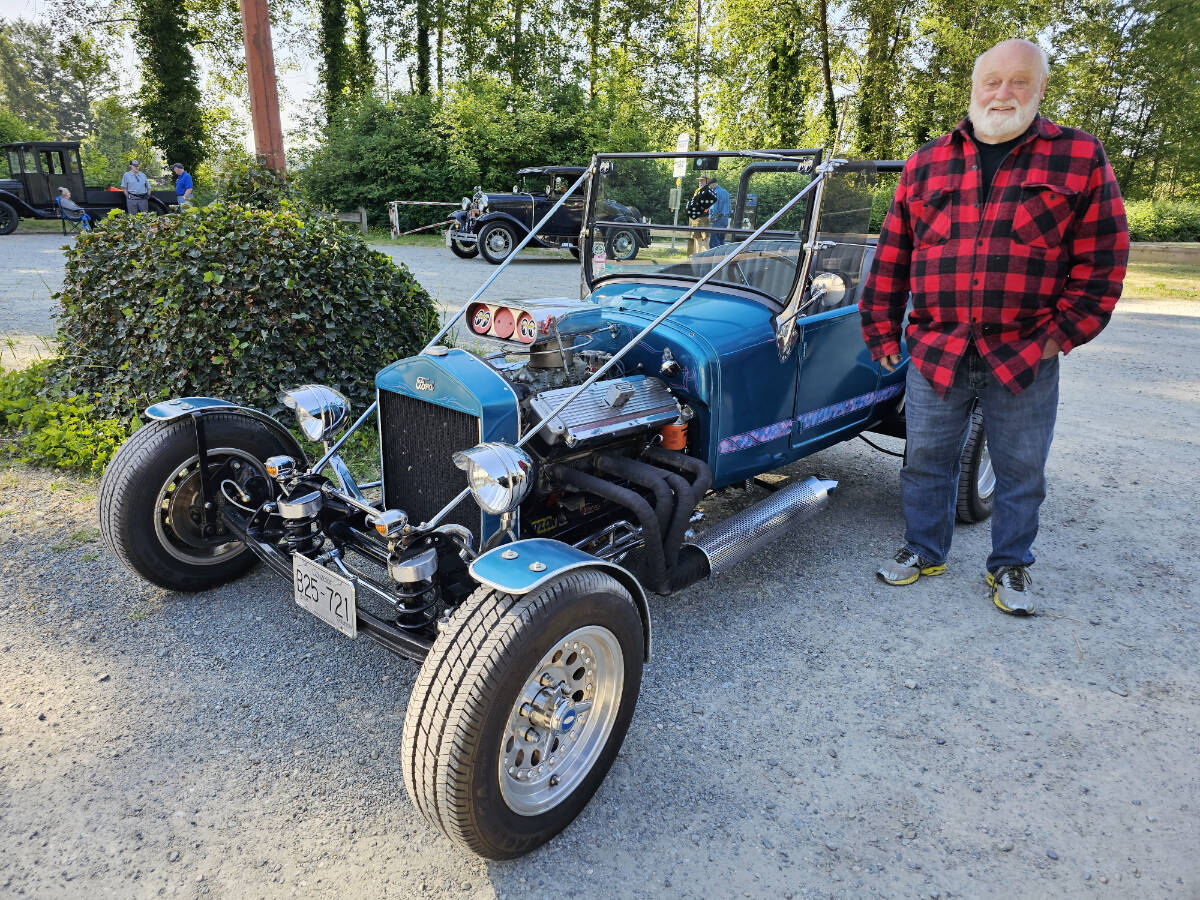 "So, I punched it and it just took off like you wouldn't believe," Suveges recalled, "a hundred miles an hour like nothing – and it scared me. I lifted off the gas pedal, and it went sideways on me and I almost flipped it. I didn't even have five miles on it and I thought I'd almost destroyed it."
Since then, he's taken a light touch with the gas pedal.
Suveges had parked his car at the new home of the Model A Sunday event, the parking lot of the Fort Langley Lions Hall at 88th Avenue and Glover Road.
While the show, when it started, was originally just for Model As, the event has evolved through the years to include other models of cool old cars.
This year, organizer Mike McVay said they relocated from their previous home at the nearby B.C. Farm Museum in Fort Langley because of new restrictions that have limited the amount of road space they could occupy to "half a road."
"It got to be quite dangerous as far as having an event down there, and I don't want anyone to get hurt, so [we] moved down to here where it's a quiet parking lot."
Besides offering more space, McVay thought a gravel parking lot was a good place for older vehicles, which have been known to leak fluids.
"Any leaks are [soaking into] the gravel – no problem" he commented.
For Suveges, the show, arranged by the Central Fraser Valley Chapter - Vintage Car Club of Canada, was an opportunity to renew an affection for older cars that dates back to his teenage years.
"When I was 13, 14, I had a little hot rod, a '36 International that I built up, and of course, couldn't drive it till I was 16," he laughed.
Suveges is currently designing a car with a deck on it for camping and long-haul travelling.
"I've never been right across Canada, and I thought it would be a good trip," he remarked.
"It's got sleeping quarters and everything on it. So if you get tired, you can just pull over to the side of the road and have a little rest."
More pictures from the car show can be seen at the Langley Advance Times Facebook page.
READ ALSO: VIDEO: A bigger and better Brookswood Community Car Show
READ ALSO: VIDEO: A 'million-dollar' surprise birthday present revealed at R.E. Mountain car show
---
Have a story tip? Email: dan.ferguson@langleyadvancetimes.com
Like us on Facebook and follow us on Twitter.