As young racers and their hand-built vehicles lined up at the top of a gently sloping hill on 18th Avenue just off 200 Street on Sunday, May 29, volunteer Steve VanWerkhoven was explaining the appeal of the yearly Soapbox Derby put on by the Langley-based Town and Field Church.
"You get to drive before you're 16 – I think that's pretty cool," said VanWerkhoven, who was a soap box racer himself when he was a boy.
"The kids love driving, having fun."
Building the cars ahead of time is a big part of the appeal, he noted.
"Whether it's with their dad, or an uncle, or a grandpa, whoever they're building with, it's cool to assemble it, and they get to paint it and put whatever cool logo they want on the outside – there's a lot of fun involved."
For more than 40 years (with the exception of the two pandemic years), the event has been held every year as a part of the Christian Service Brigade ranger program for boys Grades 3 to 6, sponsored by the Town and Field Church in Langley.
It's been going on long enough that Steve's son Isaac has also competed in the yearly event, for four years, and now, at 15, was serving as one of the volunteers who help the racers come to a stop at the bottom of the hill.
"The older biys get to give back," Steve remarked.
Steve's dad, John, the chief ranger and one of the event organizers, explained this year's edition of the race had to be cancelled three times because of poor weather, before they finally managed to get a day that wasn't raining buckets.
"There was three full Sundays of rain, and finally, here we are," John smiled.
"We've got just a great group of boys, all ready to run."
Forty racers showed up, tying the previous all-time record for attendance at the event.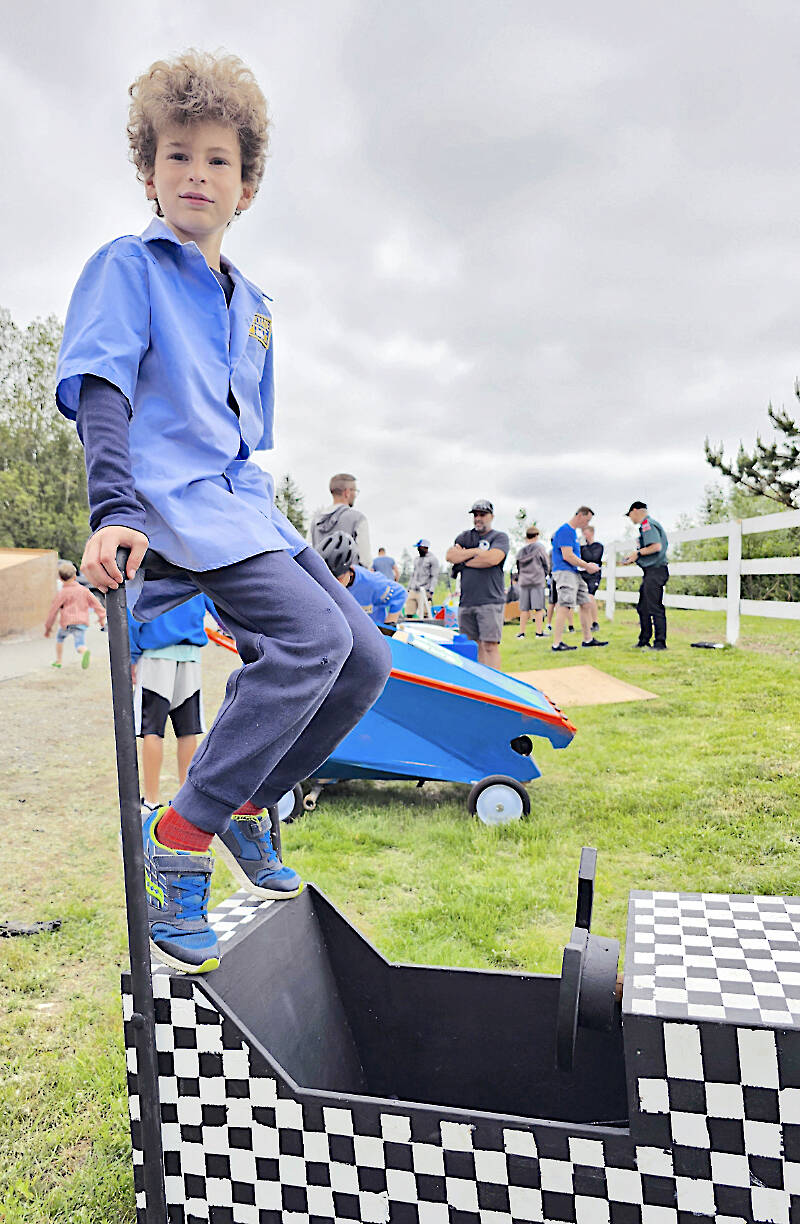 The sport of soap box racing – where racers compete using hand-built cars and gravity – got its start in 1933, in Dayton, Ohio, when a newspaper photographer took a picture of some kids rolling home-made, unpowered vehicles down an hill.
The four-wheelers were built from wooden soap crates, so Myron E. Scott, from the Dayton Daily News, dubbed the race a soap box derby.
Scott talked his boss into sponsoring a series of soap box derbies that summer that drew hundreds of racers and thousands of spectators.
Results from the 45th Langley Soapbox Derby:
First place, A division: Micah Wollf. Second place, A division: Warren Kroeker, third, A division: Colin Kroeker.
READ ALSO: VIDEO: Youngsters let loose on Langley straightaway
First place, B division: Johnny Claus, second place, B division: Levi Voros, third place, B division: Nash Holcombe.
Best Newly Constructed Car award went to Warren Kroeker, with an honourable mention for Noah Janzen and James Ficken.
Best New Paint Job award went to Joshua Coulter, with an honourable mention to Dylan Singh and Wyatt Hough.
Wild Ride Citation for best driver went to Caleb Zainali.
PAST COVERAGE: Soapbox racers celebrate 42 years of downhill racing in Langley
More photos from the day can be viewed at the Langley Advance Times Facebook page.
---
Have a story tip? Email: dan.ferguson@langleyadvancetimes.com
Like us on Facebook and follow us on Twitter.