For a second year running, Aldergrove's graduating class will be sudzing it up this weekend.
Aldergrove Community Secondary's (ACSS) dry grad committee is seeking donations for this year's dry grad event. So, on Saturday, April 29, students will be washing cars by donation at Aldergrove legion to raise funds for their grad celebration.
Katie Caines, teacher-librarian and grad coordinator this year, said the car wash was a lot of fun and a huge success last year, so the committee decided to do it again.
The car wash will be in the Aldergrove legion's parking lot from 10 a.m. to 2 p.m. Hotdogs, chips, and pop will be sold for $5, and the committee is accepting bottles and cans for a bottle drive.
"Dry grad is 100 per cent parent and student driven through fundraising initiatives throughout the community," she said.
All proceeds will go towards the dry grad celebration scheduled for June, and to help provide a safe, inclusive, and drug- and alcohol-free after-prom event for this year's grad class.
Their usual venue for dry grad, Castle Fun Park, is still out of commission, so the committee scrambled to find a new host, Caines explained.
"The community centre came in [through] and they have a space for us to do it. We did it there last year."
For those unable to attend the car wash fundraiser, people can reach out to the dry grad committee at 2023ACSSDG@gmail.com for other ways to donate.
Dry grad is a longstanding tradition at ACSS and many other high schools, which is organized each year for the graduating class by a parent committee.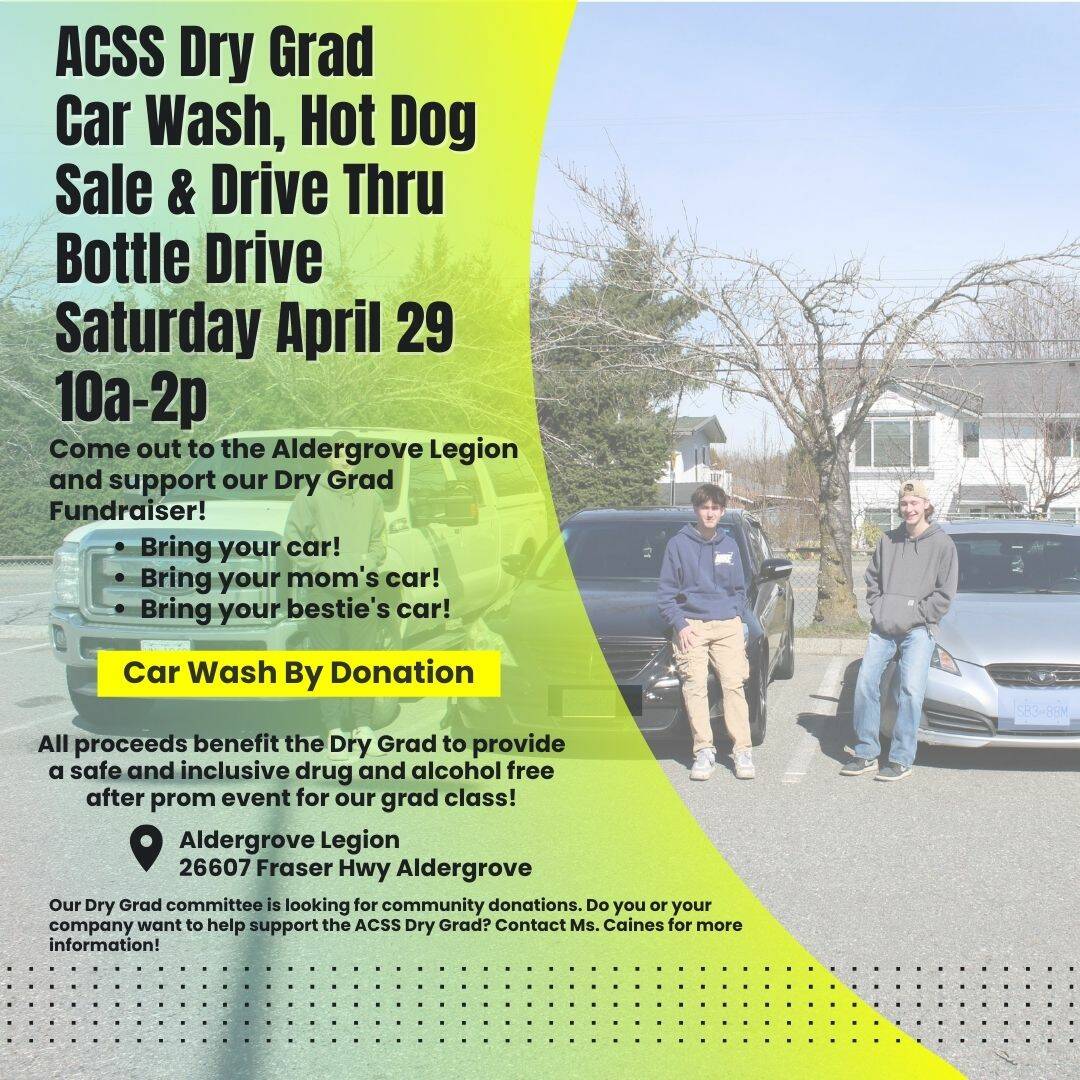 Have a story tip? Email: kyler.emerson@langleyadvancetimes.com
Like us on Facebook and follow us on Twitter.