Dozens of young entrepreneurs from across the Langley School District showcased their creations to other students, parents, teachers, and mentors at the IDEA Summit last week.
Elementary and middle school students sold everything from environment friendly fidget spinners and candles to decorative soaps and jewelry at their customized booths.
Many other students were bussed to the summit to see and buy the creations.
Wow, what a high-energy and jam packed day at this year's I.D.E.A. Summit. Langley students are busy showing off their creativity and entrepreneurial skills at the Langley Events Centre. Great job everyone! #MySD35Community pic.twitter.com/feDbXSmxqA

— Langley Schools (@LangleySchools) May 9, 2023
One team of students from D.W. Poppy Secondary called Talk Tampons finished the day winning two awards for their biodegradable tampons. They won an award for Most Creative and Innovative Product or IDEA and the top prize in the Pitch Challenge.
Katie Sumner, Grade 9 student from the Talk Tampons team, said their tampons are plastic free unlike regular tampons and only take six months to decompose, whereas ones currently on the market take hundreds of years.
"When you flush [our tampons] in the toilet, the pressure decomposes it so it won't get clogged in pipes or septic system," she said.
She explained that this is better for the environment by keeping tampons out of the landfill, currently where up to seven billion tampons end up each year.
Flushing the tampons is also more time efficient, she added, and is 10 times more absorbent.
The only ingredient in the biodegradable tampons is spunlace non-woven fabric, a specific type of wool made of cotton and synthetic fibre.
To made a box of 25 biodegradable tampons costed the team $3.75.
Proceeds from their sales at the summit were donated to women's shelters across the Lower Mainland.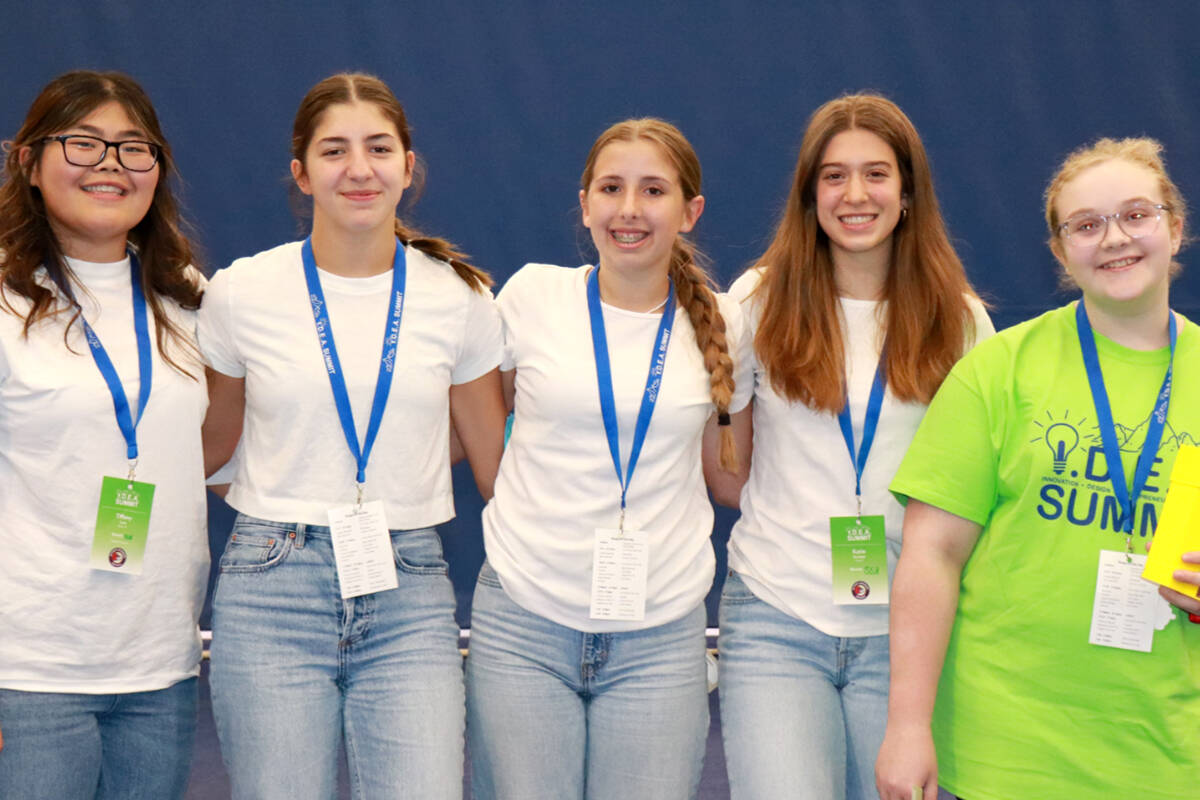 Madelyn Pyper, Grade 6 student from Yorkson Creek Middle school, wowed the audience with her "Air Bee n Bee" project. She won the Best Booth Design award in the middle/secondary school level.
She created a plastic beehive through a 3-D printer, a design she also made.
Since she a young age, Pyper was always encouraged to save the bees, and when she learned disease plays a large role in hive deaths, she knew this was an innovative way to do so.
"Diseases come to the bees through dead eggs and it can spread through the wooden hive, so 4,000 bees could die and the wood is one time use," she explained.
If a section of the hive is infected, it won't spread with the use of her product.
"It's beautiful, easy to clean, and I'd sell it for $20 so it's much more cost-effective," she added, comparing to the wooden hive which costs an average $50.
She donated her proceed to BC Children's Hospital.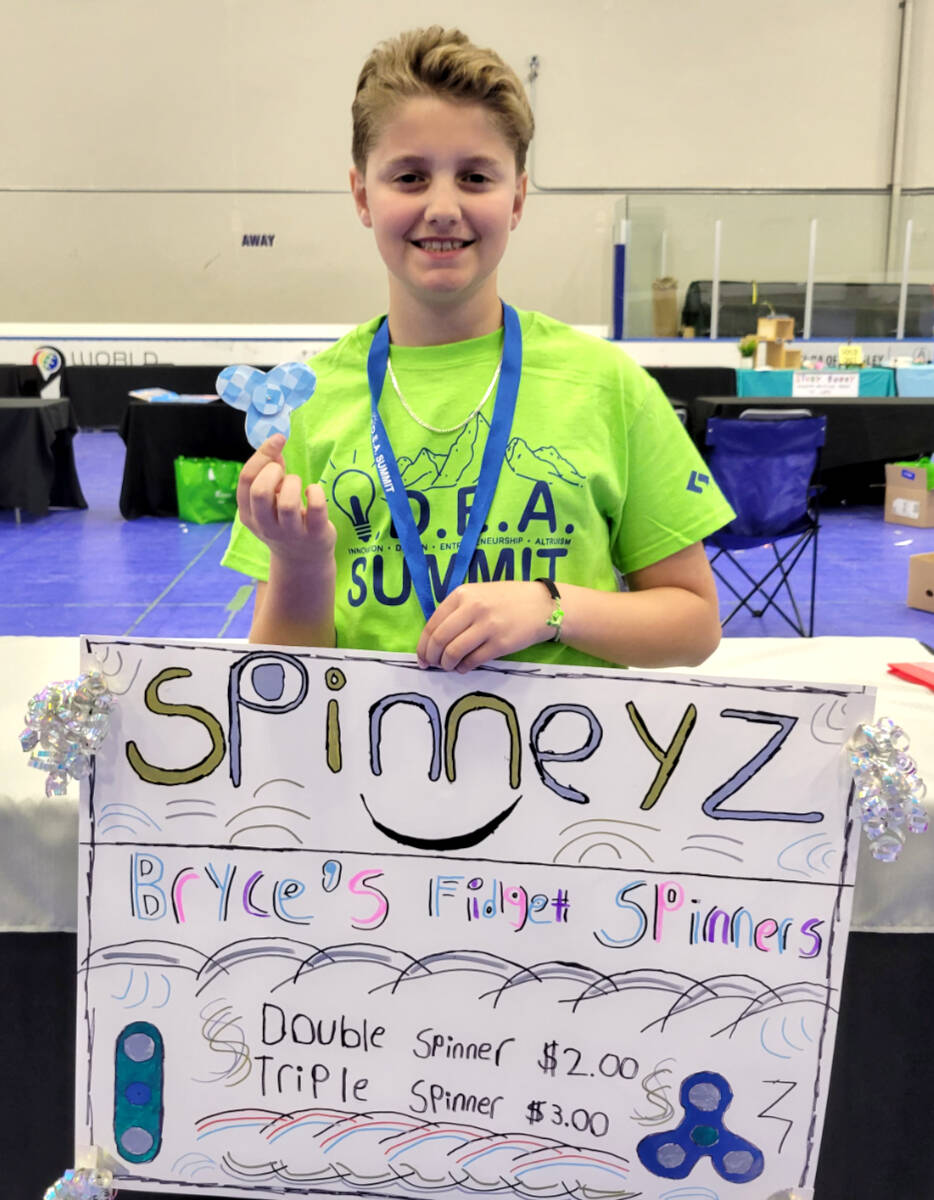 Bryce East, Grade 5 from Lynn Fripps Elementary, tied for first place in the Elementary K-5 Pitch Challenge for his fidget spinners called Spinneyz.
It cost East $0.50 to make with recycled paper, cardboard, a toothpick, and some glue. He sold them for $3 each, and was sold out by the end of the summit.
"I love to fidget myself, I liked fidget spinners when I was younger, and I know others like to fidget," East said.
He donated his proceeds to Make A Wish.
This was the third IDEA Summit, which started in 2018 but was put on hiatus when the COVID pandemic started.
George Kozlovic, director of instruction at the Langley School District, said he loves the energy and excitement the summit brings for students.
"What's neat about it is that it combines so many different elements of learning, it's not just one subject," he said, explaining that students bring literacy, math, entrepreneurship, and applied design skills to create their products.
Kozlovic said it's a great opportunity for students to develop some skills they may not have had in a classroom.
The goal of the summit is to inspire students to engage with the world around them while putting their creative and entrepreneurial skills to use.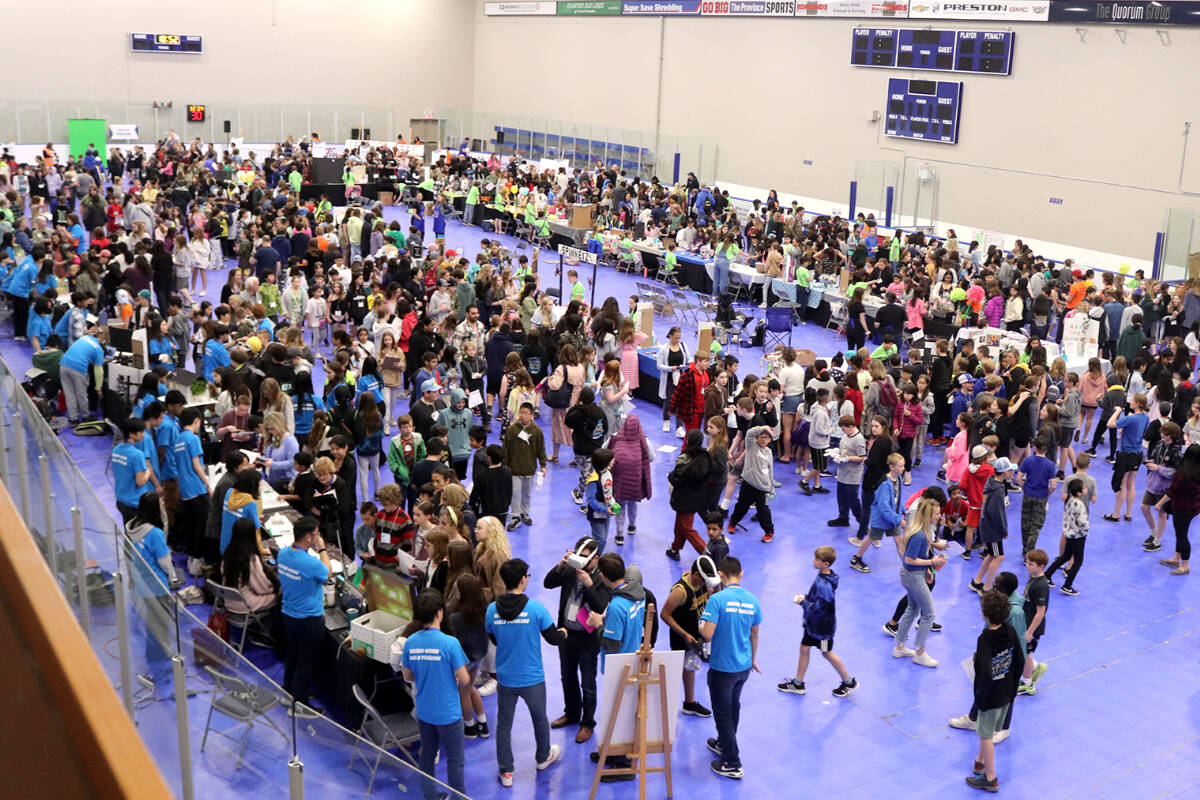 Teams were judged on a variety of criteria including solutions and ideas for everything from transportation, energy, pollution control, housing, and environmental issues.
IDEA stands for innovation, design, entrepreneurship, and altruism and is hosted annually by the Langley School District.
The finalists will be presented to judges at the IDEA X Challenge on Tuesday, May 23, at Langley Events Centre where winners could be awarded up to $20,000 in scholarships.
This year's IDEA X Challenge for students was to design a future Langley that could exist in 50 years which is environmentally responsible, earth conscious, incorporates Indigenous perspectives, and honours what is important to residents today.
Have a story tip? Email: kyler.emerson@langleyadvancetimes.com
Like us on Facebook and follow us on Twitter.