Mac Dykeman, daughter of Langley MLA Megan Dykeman, is a winner of the Canada Wide Science Fair for her project exploring an innovative approach to reducing ammonia in chicken bedding.
She received the Bronze Senior Excellence Award and the Senior Technology in Agriculture Award, which included a medal, certificate of achievement, and $1,000.
"I always work very hard on all my science fair projects, so I am grateful to have my hard work recognized through winning these two awards," Dykeman said.
As it was her last year to participate in the fair, she said it was gratifying to end her Grade 12 year on a high note.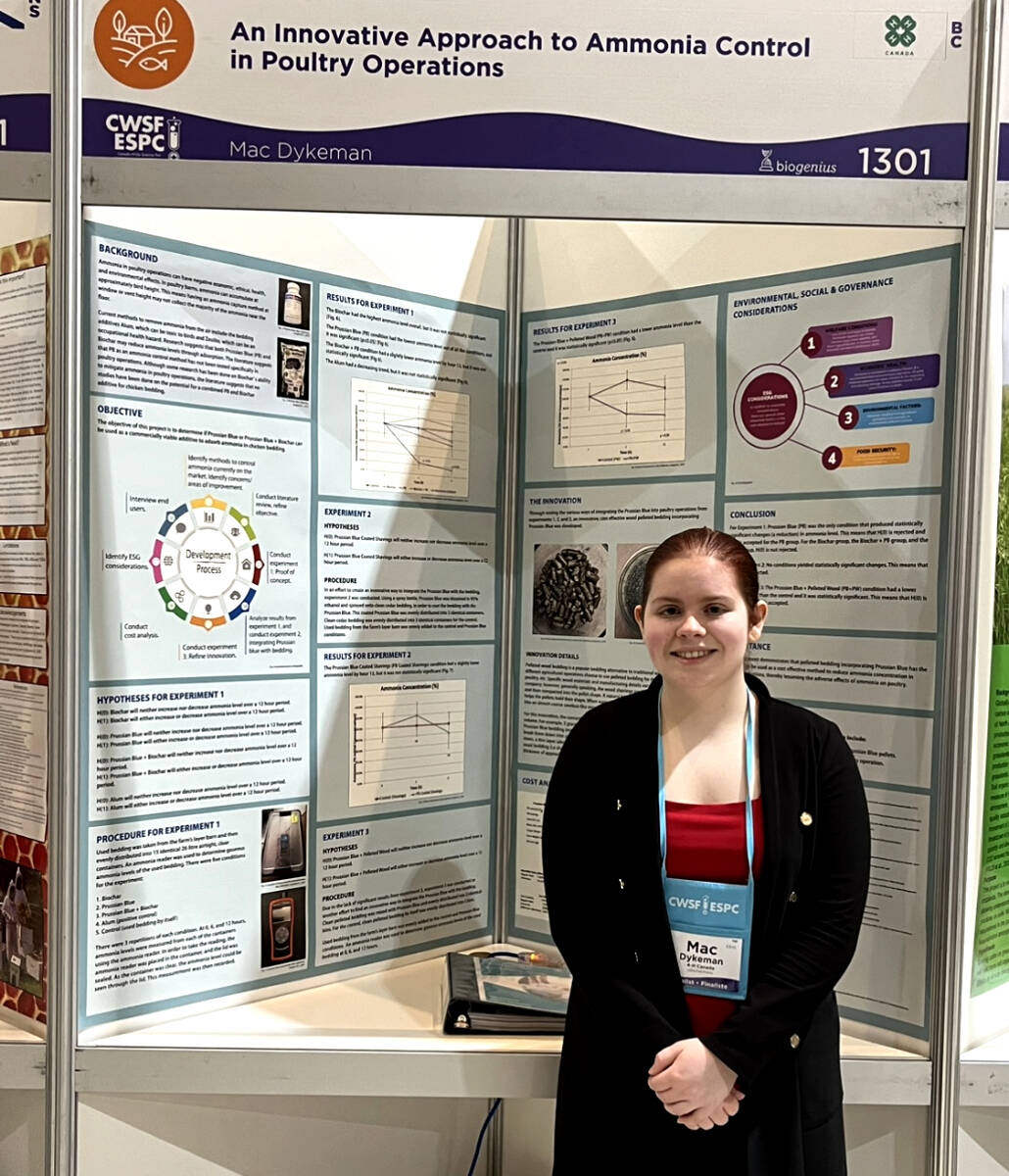 Ammonia in chicken coops forms from the breakdown of uric acid and feces in the litter. While this occurs year round, the amount of ammonia builds due to the limited amount of fresh air in the barn in the winter.
Dykeman's project tested the effectiveness of Prussian Blue and Prussian Blue, plus Biochar as an ammonia control additive for chicken bedding, and she found that Prussian Blue can adsorb ammonia while Biochar has no effect.
"Closer to the ground is where all the ammonia is gathering and it can affect the chickens because they are much closer to the ground, so that means having the windows open in the barn doesn't deal with the majority of ammonia at the floor," Dykeman said.
Currently, bedding additives Alum and Zeolite are used, but are harmful to chickens and humans.
Living on a poultry farm made Dykeman aware of the effect ammonia has on chickens, and she became increasingly aware of the environmental pollutant impacts as well.
Some negative effects of ammonia on chickens include respiratory tract damage, skin and eye irritation, and decrease in their ability to lay eggs.
For the fair, she refined the innovation component of her project, conducted a cost analysis, interviewed people in the poultry industry, and developed a pelleted bedding that incorporated Prussian Blue.
"I currently have a patent pending on this innovation, so I would like to go through this process to get a full patent," she said.
Dykeman also hopes to do a commercial run of the bedding.
She starts university in the United Kingdom in fall to pursue a bachelor of science in bioarchaeology, which is a specialization in archeology where scientific labratory methods are applied to analyze archaeological evidence.
"If anyone out there is thinking of participating in a science fair, I highly encourage you to do so. If I had not participate, I don't believe I would have discovered my passion for STEM or entering a science program at university."
Have a story tip? Email: kyler.emerson@langleyadvancetimes.com
Like us on Facebook and follow us on Twitter.