Laura-Jane (L.J.) Tidball always knew she wanted to be a professional show jumper, and not only because of her family's connection to the sport.
As the daughter of Jane Tidball, board chair and CEO at Thunderbird Show Park (tbird), and granddaughter of George and Dianne who founded the park, L.J. has been surrounded by horses and show jumping her whole life.
She was competing in the Grand Pix division by age 16.
There was a time L.J. tried to pursue a university degree in business in San Diego, but found herself missing riding so much she returned home.
Now, she works with her aunt, Laura Balisky, at the training facility, known as Thunderbird Show Stables in Langley — which Laura operates with her husband, Brent, who also runs The Keg restaurants.
L.J. is the manager of the stables and helps with coaching new riders and horses.
"I get to do a sport I love for a living… I get to come to work every day and do something that I'm passionate about, so I couldn't really ask for more," L.J. shared.
While keeping fit and riding horses is required for the job, L.J. explained there's much more to the sport.
"A huge part of what we do is managing people, managing these horses, and the actual barn management is an incredibly large part of it as well," she said.
From cleaning a stall to hooking up and pulling trailers to show jumping, L.J. recommends knowing how to do everything to be a professional in the sport.
"It's really well-rounded, and if you only have one facet, I think, it would be a lot harder."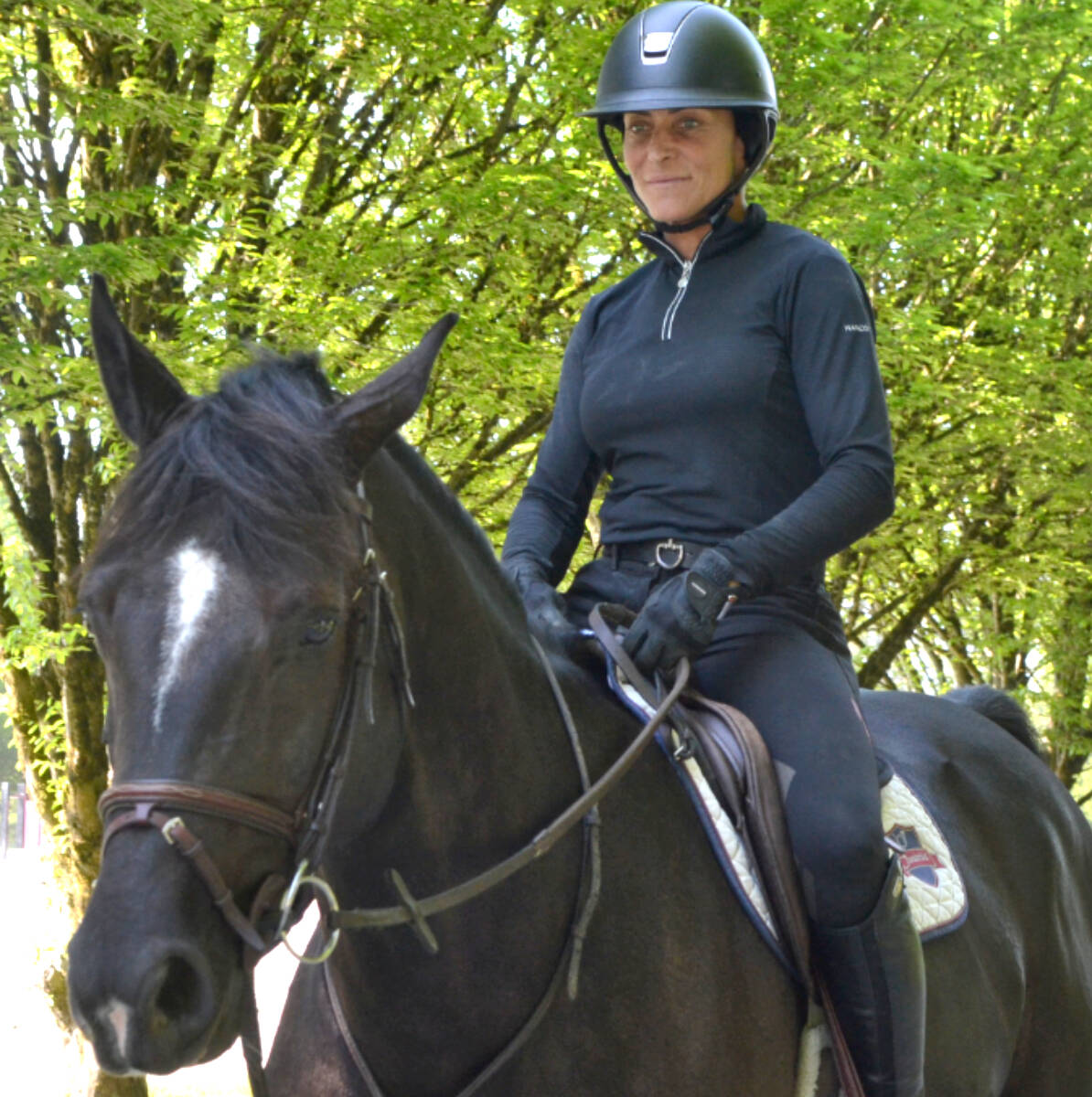 As a kid, L.J. would ride anything she was allowed to or what others didn't want to. She worked hard in the barn, staying late and starting earlier so she got more time in all levels of the stables. A common story in the equestrian industry, she said.
"I think it has to be a passion, and a drive, that comes from within — to want something so badly you're willing to do anything to get it. I don't know that you can teach that."
There are no requirements to becoming a professional show jumper, but L.J. advises riding as many different horses as possible to get familiar with different behaviours.
"It won't be so hard when you get on a new horse because you've sat on so many before. You start to get a feel for each horse's unique personality and similarities," she said.
This year, L.J. plans to compete with her two up-and-coming horses, Jericho and Ruby. Her horse, Oxford, which she competed with previously, retired last year.
L.J. has had Ruby since she was a foul and will enter her into the 1.4 metre division in July, and Jericho will step into the 1.5 metre division — his biggest class so far — in August.
"For me riding has always been a competition with myself, and it's taught me to persevere. The more experience you have with succeeding and failing, the better off you end up," L.J. said.
"I'm really looking forward to it."
The Nations Cup is happening on Sunday, June 4, with activities from 11 a.m. to 5 p.m. at tbird.
On Friday, June 2, competitions run 10 a.m. to 4 p.m.
The Saturday schedule runs from 10 a.m. to 5 p.m.
And Sunday's big $400,000 Longines FEI Jumping Nations Cup is from 2 to 4 p.m. with gates opening at 1 p.m.
General admission for the Nations Cup is $10 per person, while children five and younger are admitted free.
Spectator tickets for any of these events can be bought online at tbird.ca.
The public is asked to enter the gates at 6975 248th St.
Have a story tip? Email: kyler.emerson@langleyadvancetimes.com
Like us on Facebook and follow us on Twitter.