We know that having the space for reflection and solitude is vital to our wellness. But that same space is also essential for healing – emotionally, spiritually and physically.
It's with that in mind that the Langley Memorial Hospital Foundation is working to renovate and refurbish the hospital's Spiritual Space, which at 50 years old is showing its age.
Located on the hospital's main level, the Spiritual Space is a welcoming, restful place where patients, their loved ones, health care workers and others can find time and space to be alone, away from the busy, clinical hospital setting.
"The Spiritual Space functions as a quiet, meditative sanctuary," reflects Shane Flanagan, a Spiritual Health Practitioner based in Langley.
Flanagan sees every day how the power of reflection and solitude can ease the troubled or overwhelmed mind and spirit. "It's an important place for spiritual and emotional wellness. In times of crisis, it needs to be a comfortable and welcoming space for patients, family, and care staff to de-stress and find solace in the midst of chaos," he says.
Supporting the community yesterday, today and tomorrow
When a loved one is sick, injured, in surgery or in long-term care, family members, friends and caregivers carry a burden of helplessness, loss of control, fear and anxiety. At these times, it can be crucial for their mental and physical health to find a quiet haven. To be able to do so without leaving the hospital is essential.
The Spiritual Space at Langley Memorial Hospital offers that solace in times of crisis.
While the space has served the community well for five decades, the renovation will transform it into a contemporary, serene environment designed for privacy and healing of the heart, mind and spirit, making a huge difference to those who need support, and those who offer support to others at their most vulnerable.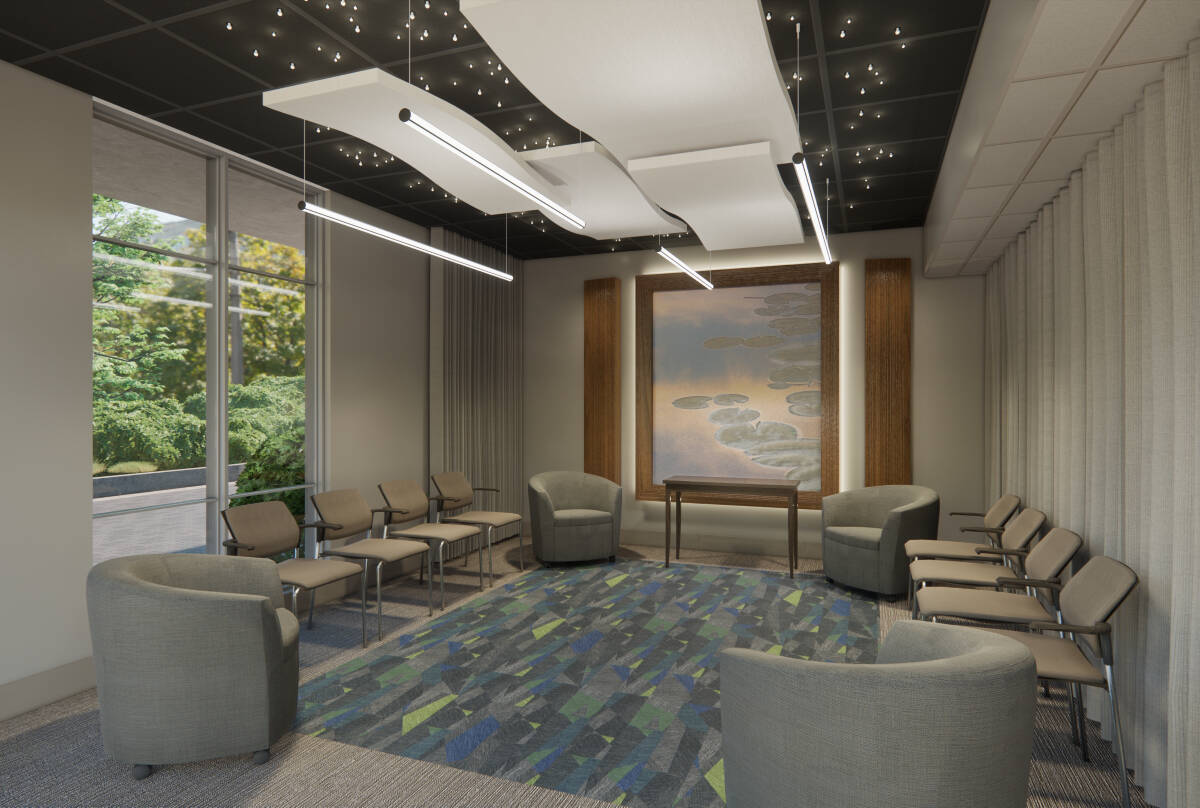 Langley Memorial Hospital Foundation aims to raise $200,000 to create that healing space – a spiritual retreat where visitors, patients and health care workers can close the door on the outside world and sit, pray or simply reflect in a safe, peaceful spot.
The renovation will create an elegant, warm and welcoming space that comforts and embraces all who visit, whether to worship, meditate, grieve or celebrate life's milestones. It is – and will continue to be – a space welcoming to all faiths, cultures and philosophies, and that features the universal beauty of nature.
Support the Spiritual Space at Langley Memorial today
Help the Langley Memorial Hospital Foundation create an inviting, calming Spiritual Space at the hospital – give generously to support the renovation at lmhfoundation.com/donate