Following a crash that saw a flatbed semi truck slam into the 264th Street overpass on Highway #1 in Aldergrove on Monday morning, police said a driver has been ticketed for driving without due care, and failing to have an over-height permit.
Around 7 a.m. on May 29, the westbound truck failed to clear the overpass, knocking a heavy piece of industrial equipment off the truck and onto the highway. The impact also broke the flatbed trailer. It appeared from photos taken at the scene that the truck was hauling a pile driver hammer and power unit, with the hammer landing on the westbound side road running parallel to the highway.
That section of the Trans-Canada Highway was closed to westbound traffic, with vehicles being diverted to the on and off ramps while commercial vehicle and safety enforcement officers and engineers from the Ministry of Transportation assessed the damage.
A statement from the B.C. Highway Patrol said there were no injuries, and the engineers determined the overpass was safe for vehicles.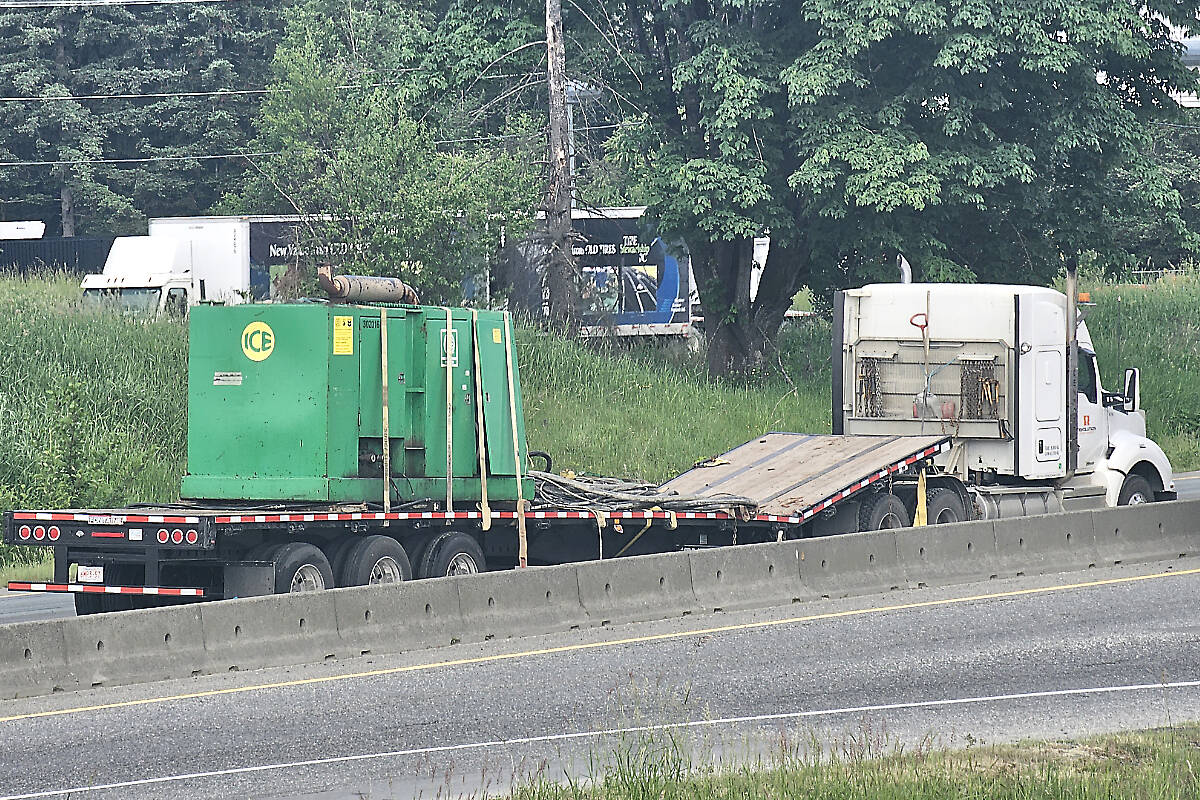 It happened a few hours after another overpass collision closed the highway through Abbotsford.
Abbotsford Police Department said a fully-loaded dump truck struck the No. 3 Road overpass at approximately 5:20 a.m. after suffering a front tire blowout that caused the driver to lose control of the truck and crash into the overpass support posts.
The truck immediately burst into flames but the driver was not injured.
Langley-based B.C. Trucking Association president and CEO Dave Earle said some trucking companies are not checking vehicle heights when they should.
"There's conversations that are not happening, on the ground, with owners, drivers and dispatchers," Earle told the Langley Advance Times."
"Its frustrating because it was another over-height hit," Earle said.
"The limit (any truck over 4.15 metres requires a special permit) hasn't changed. It's not new. It's nation-wide."
"Metro Vancouver Overpass Impact Counter" a Twitter account that tracks overpass collisions, estimated the longest period between overpass crashes in Metro Vancouver has been 79 days, with the shortest period just 27 days.
It has been ZERO days since the last over height vehicle hit an overpass in Metro Vancouver.

Previous Record - 27 Days.
Longest Record - 79 Days.

— Metro Vancouver Overpass Impact Counter (@MVOverpassDWI) May 29, 2023
Work to replace the frequently-hit Glover Road highway overpass – west of 264th Street – is underway, with the newer overpass to allow a better clearance height.
Plans to widen Highway One from 216th to 264th Streets also include replacing the existing 232nd Street interchange, another often-hit overpass, raising the height from 4.6 metres to 5.2 metres and adding traffic signals to the on and off ramps.
A provincial public engagement report on the project said the current 232 Street structure "has a low clearance which poses and safety hazard and restricts the efficient movement of goods on this corridor."
The 10-kilometre stretch of road is to be widened to three full lanes each way to accommodate HOV lanes.
More photos from the crash can be viewed online at the Langley Advance Times Facebook page.
READ ALSO: Damaged 232nd Street and Hwy. 1 overpass in Langley still limited to one alternating lane
READ ALSO: Glover Road Overpass to close until summer 2024
READ ALSO: Eight and counting: another overpass hit by a truck
---
Have a story tip? Email: dan.ferguson@langleyadvancetimes.com
Like us on Facebook and follow us on Twitter.