The struggles continue for the Junior A Langley Thunder.
The lacrosse club dropped its third game in four days, falling 10-4 to the visiting Nanaimo Timbermen on Sunday afternoon, May 21, at Langley Events Centre.
Combined with a 4-3 loss on May 18 at home to New Westminster and a 15-5 setback on May 20 to Delta at the Ladner Leisure Centre, and the Thunder have now dropped five consecutive games to see their record fall to 1-6 in the BC Junior A Lacrosse League.
READ ALSO: An early start by Port Coquitlam Saints, and a win against Langley Thunder
As has been the case during this slide, goal scoring continues to be a problem as Langley is averaging just six goals per game and scored only a combined dozen goals this past week.
Versus Nanaimo, the Thunder had a solid first period with a 3-2 lead in the latter stages of the opening 20 minutes. But the Timbermen pulled even prior to intermission and then the only six goals of the middle stanza to put the game out of reach. Each team scored once in the final 20 minutes.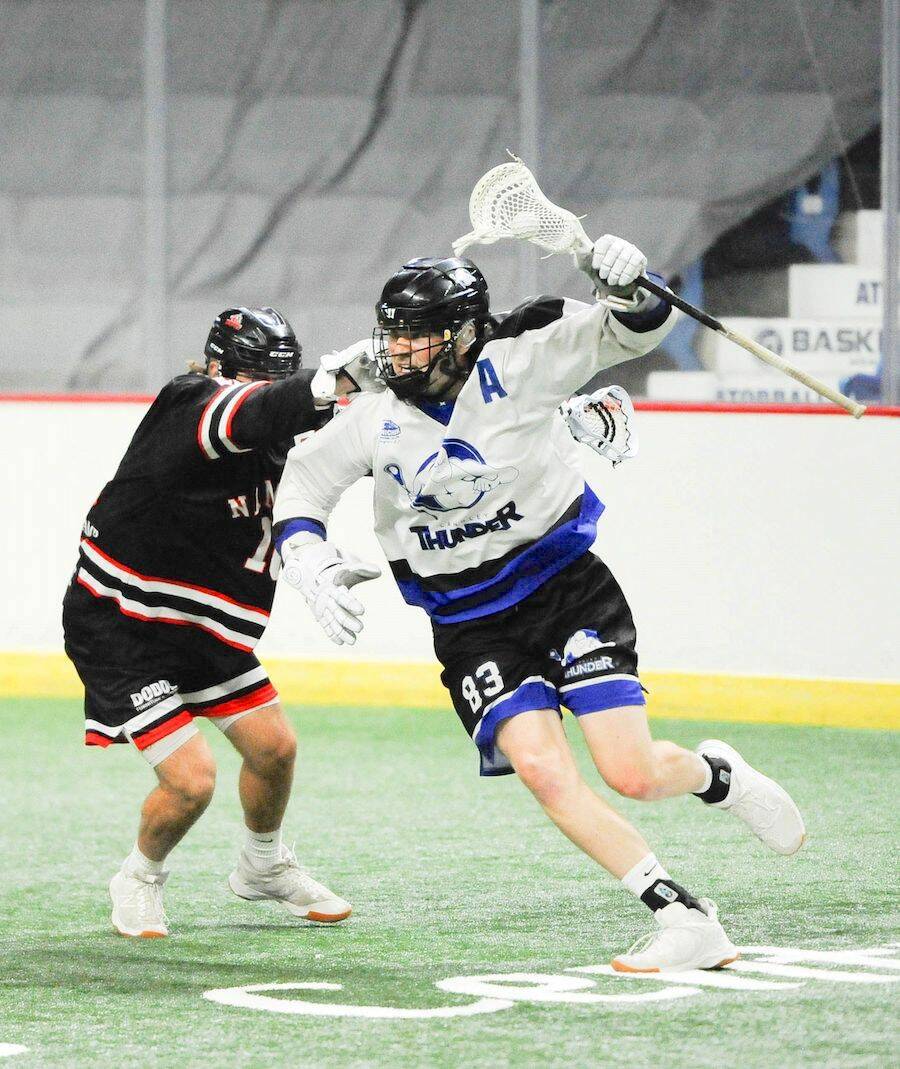 Braiden Struss led the Thunder attack with a pair of goals while Bailey Vanichuk and Ben Gagnon scored once apiece for the other two goals. Brayden Wandler finished with 50 saves for Langley as his team was outshot 60-33.
The Timbermen's Riley Arsenault (3+1), Matt Boas (1+4) and Jack Bowie (2+0) led their team's attack.
Against Delta the night before, Langley again had a solid opening period, jumping out to a 3-0 lead after just 1:41. But the team mustered just two goals over the final 57:19, falling 15-5.
Langley's leading goal scorer this season, Declan Fitzpatrick made his return to the line-up and both he and Struss had matching one-goal, four-point games, while Jack Margetson (1+2), Jayme Brain (1+1) and Declan Fines (1+0) rounded out the offence. Wandler stopped 26 of 36 shots and Deklan Morrison made 19 saves on 24 shots.
Silas Richmond scored five goals for the Islanders.
The Thunder are now off until May 28 when they host the Victoria Shamrocks at Langley Events Centre. Game time is 3:30 p.m.
READ ALSO: New WLA Thunder coach announced
---
Have a story tip? Email: news@langleyadvancetimes.com
Like us on Facebook and follow us on Twitter.