Langley Thunder opened the BC Junior Tier 1 Lacrosse League season with a pair of 11-8 losses.
The Junior Tier 1 team lost 11-8 on Sunday, April 30, in Burnaby to the Lakers and then fell by that same score on Tuesday, May 2, against the Port Coquitlam Saints at Langley Events Centre.
Brock Lamotte put Langley ahead 8-7 with a goal early in the third period, but the Saints responded with a pair of quick transition goals 33 seconds apart and then tacked on two more goals for the final margin of victory.
Connyr Welsh led the Thunder with three goals while Vaughn Pinchin scored twice and set up another. Noah Buchan and Talon Schroeder each finished with a goal and two helpers. In net, Charlie Lort made 35 saves as the Thunder were outshot 46-35.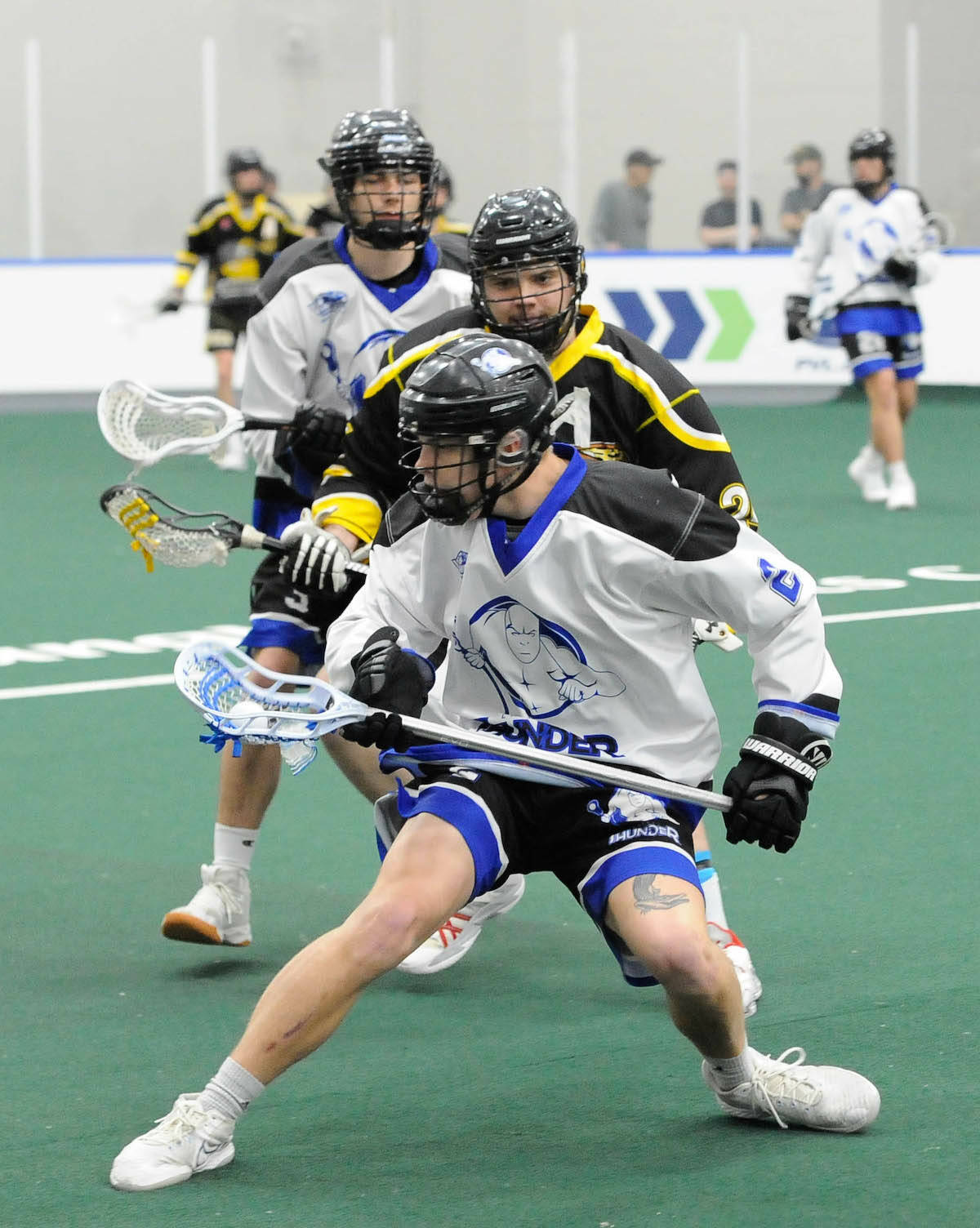 Nolan Ross (2+2) led the Saints while Tyler Learn and Austin Taggart both scored a pair of goals. Liam Froese made 27 saves, 13 of which came in the first period alone.
Langley scored six of their eight goals on the night in the middle stanza but could not sustain that over the final 20 minutes.
"We were getting good locks and playing five-on-five (in the second period). Third period we got into some penalty trouble, and they capitalized," explained Thunder coach Darren Buchan.
Against Burnaby, Langley fell behind 6-2 after a period and 8-4 through 40 minutes.
Despite the 0-2 start, Buchan said there are positives to take away, especially considering they have a young roster with just nine second-year players, only one of whom is on the offence.
"We are a young team. We fell behind in Burnaby and didn't give up. That one could have gotten away from us but we clawed back in the third period," he said. "The other night we scored them in the third, tonight in the second. We just have to be able to score in all three periods."
Jake Newby paced the offence with a hat trick while Pinchin (2+2) and Schroeder both had two-goal games. Welsh had the team's other score. Lort played the final two periods and made 24 saves while Tenzin Fernandez finished with nine saves on 15 shots.
Julian Vargas (2+4) and Anthony Vargas (2+3) led the Lakers attack.
The Thunder are right back in action on May 3 as they travel to Richmond to face the Roadrunners at Minoru Arena. The team's next home game at Langley Events Centre is May 9 against New Westminster.
READ ALSO: Sea Spray takes lead in Arena Lacrosse League West Finals
READ ALSO: Three Langley Minor Lacrosse teams return with medals from provincial championships
---
Have a story tip? Email: dan.ferguson@langleyadvancetimes.com
Like us on Facebook and follow us on Twitter.