Langley's Tiffany Foster looked like a champion as she rode past a cheering crowd at Thunderbird Show Park in Langley with her teammates on Sunday afternoon, June 4, a few minutes after Team Canada finished second to Ireland in the $400,000 Longines Fédération Équestre Internationale (FEI) Jumping Nations Cup of Canada (Team USA was third).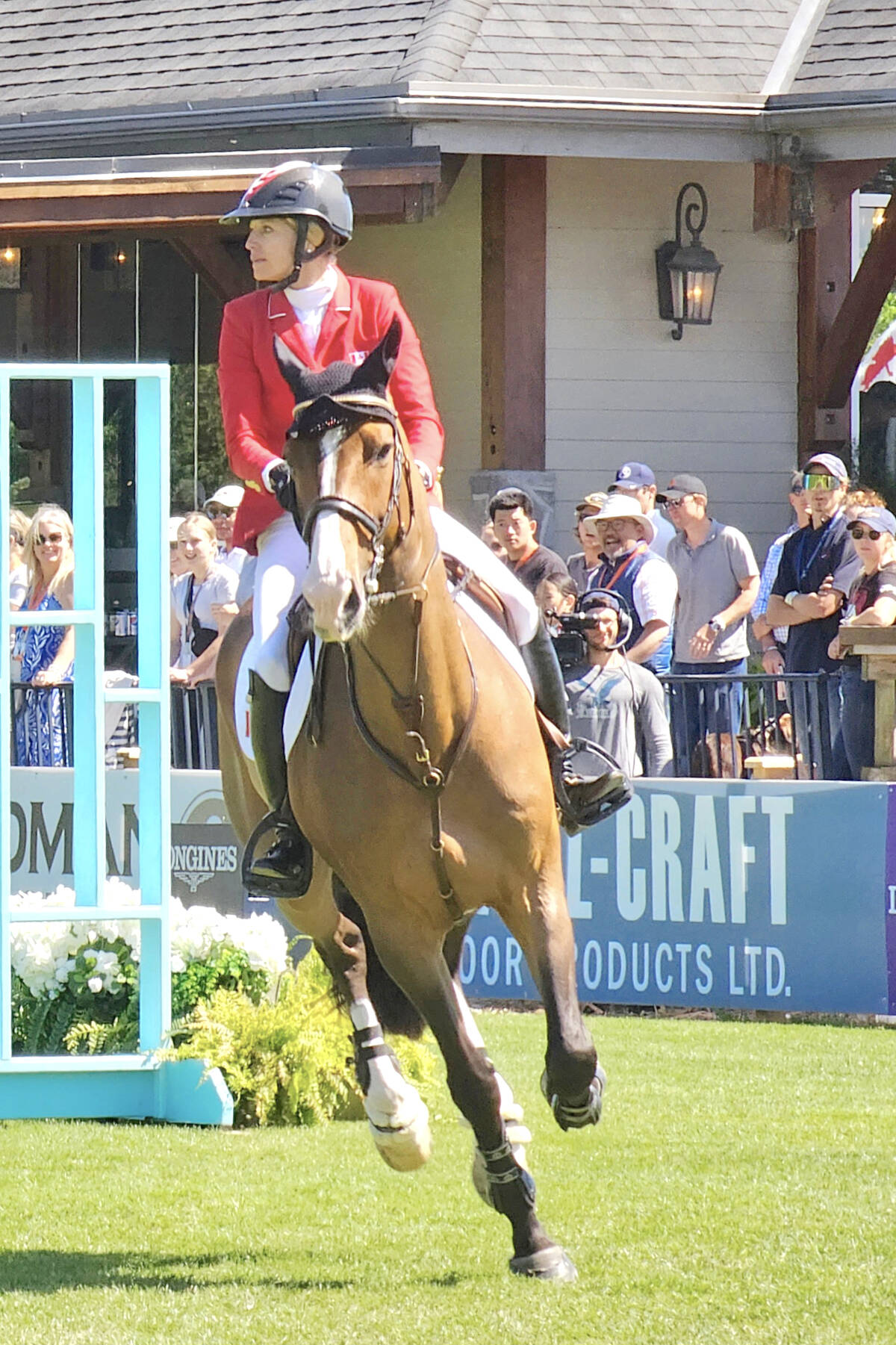 Foster, who competed in the Nations Cup with Hamilton, a 12-year-old Holsteiner gelding, smiled and waved back as she rode by fans who applauded and waved Canadian flags.
"As always, it's a thrill and an honour to compete in front of my truly home crowd," Foster told the Langley Advance Times afterwards.
"I can't describe what it means to me to hear the cheer when I enter the arena. The team at Thunderbird Showpark has done such an incredible job bringing the highest level of our sport to Langley and I am so proud to call this place home," Foster said.
After a knockdown in the first round, she described herself as happy that her second round score contributed to Team Canada's second place finish.
"I lost my grandmother over the weekend, and this team carried me through the competition, and I will be forever grateful to them for that," Foster revealed.
"Thank you to everyone who came out to cheer us on - it means the world to us!"
Ireland was tied with Canada until the final horse entered the Fort Grand Prix arena. With two foot perfect rounds from Erynn Ballard and Gakhir and a 4/0 from Mario Deslauriers and Emerson (Foster and Hamilton were the drop score in both rounds on 9 and 4), it came down to Amy Millar and Truman.
If they could repeat their clear from round one, it would force a jump-off with Ireland. If they had so much as a time fault, Ireland would win. Unfortunately, Millar just touched fence six and it fell, giving Ireland the win.
Canada finished in second on a final score of eight faults, with the United States in third on a final score of 28.
Team USA finished the season with 280 points, winning earlier this year in Mexico and America. Sunday's results leave Mexico and Canada tied on points (240), which is broken by the number of clear rounds jumped by each nation across the series. With seven clears, Mexico also secured their spot in the Barcelona Final.
The disappointing finish for the Canadian team came after an individual career highlight for Foster, who won the CSI5* Major League Show Jumping (MLSJ) Grand Prix at tbird during the previous week, on Saturday, May 27 with Northern Light, the first time the top-ranked rider has taken the title.
READ ALSO: VIDEO: A first five star Grand Prix win for Langley champion rider Tiffany Foster at tbird
It marked the sixth year tbird has hosted the Nations Cup, and it just renewed the contract to host the prestigous event for another three years.
READ ALSO: Tbird 'honoured' to host FEI Nations Cup for sixth year in a row
More photos from the day can viewed online at the Langley Advance Times Facebook page.
---
Have a story tip? Email: dan.ferguson@langleyadvancetimes.com
Like us on Facebook and follow us on Twitter.