Vancouver FC's defence and goalkeeper struggled to keep up with Atlético Ottawa on Saturday, May 13, at Willoughby Stadium in Langley.
Ottawa's Ollie Bassett, Samuel Salter, Noah Verhoeven, Zach Verhoven and Zakaria Bahous all scored, while at the other end, Atlético didn't allow a single shot on target for a 5-0 win.
Bassett was named player of the match.
For Vancouver FC, it was the first time in club history that they have been scored on multiple times by an opponent.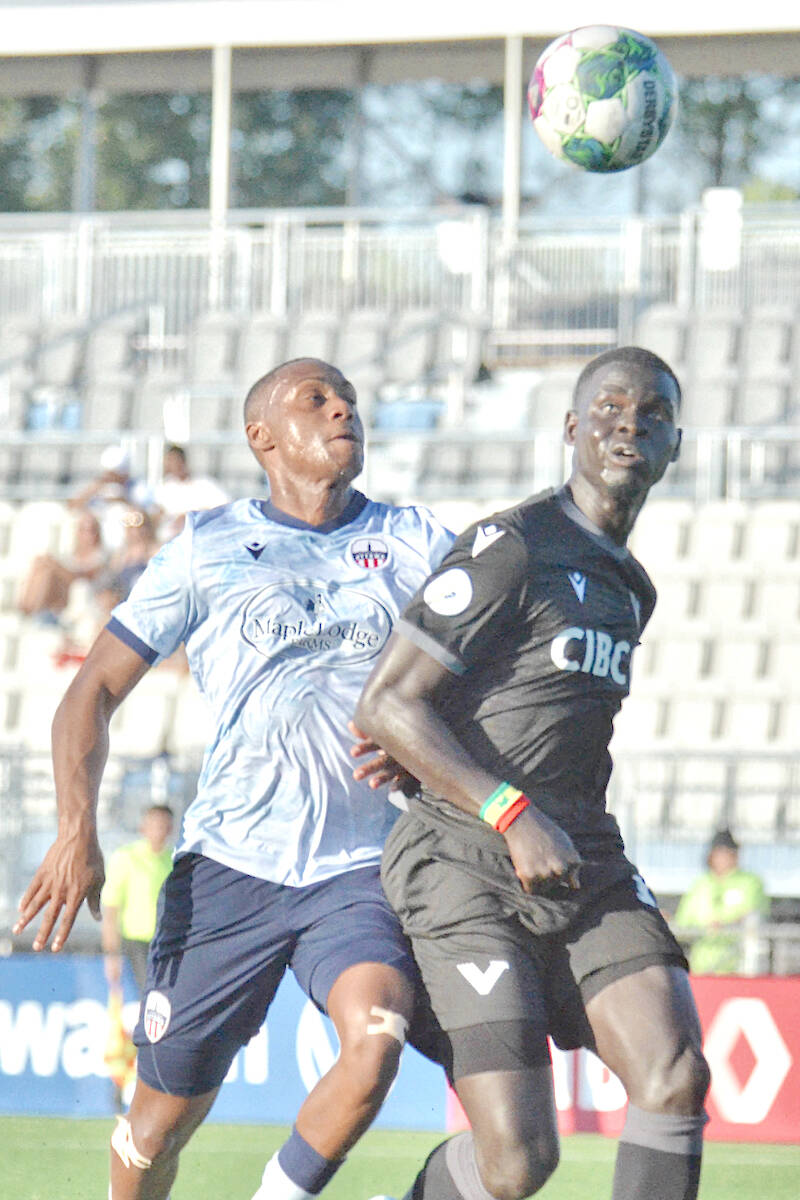 It was the first meeting of the Canadian Premier League's two expansion teams, with Vancouver FC undefeated in three matches, while Atlético Ottawa had suffered three straight defeats.
Vancouver FC was again without Rocco Romeo, who was issued a straight red card at the teams first home game in the new stadium on May 7.
Lots of work to be done 🦅 #VancouverFC #CanPL pic.twitter.com/Oi0JgK9vsB

— Vancouver Football Club (@vanfootballclub) May 14, 2023
Vancouver FC head coach Afshin Ghotbi was not happy.
"In every department, we didn't show anything, and were very poor," said Ghotbi. "We lost concentration, we lost organization, we were always second best in every dual and every race."
READ ALSO: VIDEO: Vancouver FC's very first home game ends with a tie
With Romeo suspended, Ghotbi had to create a makeshift backline to compensate.
That came with it a surprising decision to play 19-year-old Mamadou Kane, who so far has featured in the Canadian Premier League primarily as an attacker, as a central defender. While there was certainly some promise, Kane also looked out of his depth on multiple occasions, especially when isolated in 1-v-1 situations where players consistently got on the wrong side of him.
"We think he has the athleticism, he has the ability to play out of the back, he is good in the air," said Ghotbi of his decision to move Kane to the back. "Maybe positionally, he has to improve, but he needs experience with that."
READ ALSO: Third player signed to Langley's new pro soccer team
"I'm really sorry for our fans, because they paid hard-earned money, they gave their time to come here, to support the club and I am very, very sorry for today," said Ghotbi. "For our lack of quality and effort in the loss, we will make it up to them and I am hoping that our players will learn very quickly and wipe the tears and move on."
Another concern is Kadin Chung and Gabriel Bitar, who both had to be removed from the match through injuries. Bitar and Chung have proven to be two integral players for this Vancouver FC side, and any significant time spent without them could do serious damage to the club's performance this season.
---
Have a story tip? Email: news@langleyadvancetimes.com
Like us on Facebook and follow us on Twitter.