TJ Tahid had a really good game as Vancouver FC picked up another point in front of their hometown crowd with a 0-0 draw against the visiting Valour FC Sunday, May 28 in Langley.
Maple Ridge's Tahid, at 16, the youngest player youngest player in Canadian Premier League history, put in an impressive hour of work.
He started on the left wing of a 4-4-1-1 formation, combined well on a couple of occasions with attacking midfielder Gael Sandoval and left back Min-Jae Kwak, before being replaced by Nicky Gyimah in the 64th minute.
He shared the team lead with Kwak in a couple of categories: duels won, with seven, and the number of times they won possession, with eight. The young winger led the team with five successful tackles, and also made some impressive runs down the left flank.
READ ALSO: Vancouver FC makes Maple Ridge teen the league's youngest player
After the match, Vancouver FC Head Coach Afshin Ghotbi had high praise for the youngster.
"Probably the most positive [thing from this game] for me was TJ's first start, what a fantastic performance from a 16-year-old player," Ghotbi said. "Wow, I'm so impressed, and I think that's something to be really proud of — that we have maybe one of the best 16-year-olds in North America playing for us."
Ghotbi also had high praise for the CPL itself for being a league that allows young Canadian players to have professional opportunities, and reiterated the club's commitment to giving opportunities to players like Tahid.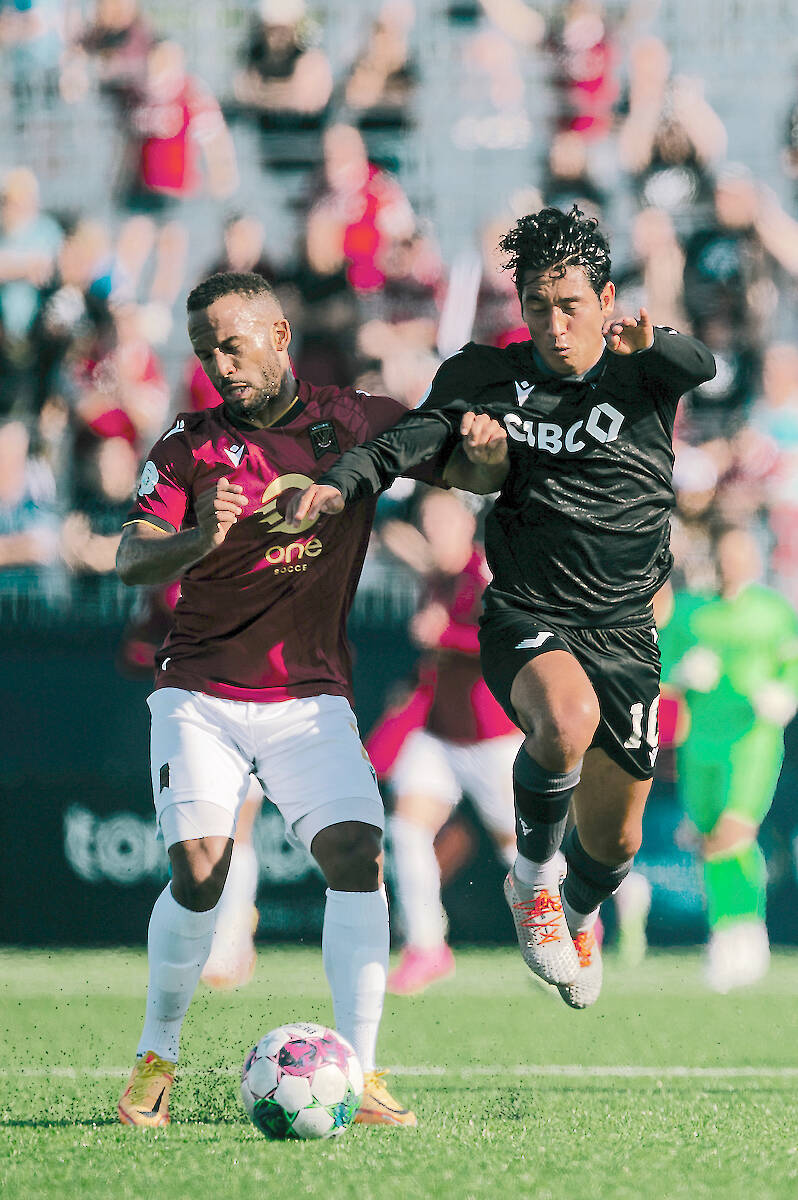 "This is what this club is all about, finding local players like TJ that are Canadian, and finding these young geniuses that need experience to play with senior players at the highest level in Canada to be able to develop themselves in a professional environment so they can reach their potential sooner," Ghotbi said.
"TJ will hopefully be one of many, many players that will come out of our organization and help Canadian football. I think that what's really brave on our club's part is that by putting 16-year-olds and 18-year-olds on the pitch, maybe we sacrifice results in the short term, but we gain so much in the long term."
Something to build on. 🧱

See you all on Friday as we take on Pacific FC at Willoughby. 🔜⚽️#VancouverFC #CanPL pic.twitter.com/6BPXOiWcwJ

— Vancouver Football Club (@vanfootballclub) May 29, 2023
Valour came flying out of the gates, dominating possession and many of the game's early scoring opportunities, including Kian Williams smashing a shot into the side netting 80 seconds into the match.
The two sides traded shots at the start of the second half, but both goalkeepers held strong, and both backlines did their jobs to put pressure on the players taking shots, forcing several efforts high and wide at either end of the pitch.
Valour put the ball into the back of the net in the 70th minute, on a shot from Anthony Novak, but it was waved off by the referee for an alleged handball by Pacifique Niyongabire in the leadup.
Up next, a Friday, June 2 match against Pacific FC at Willoughby Stadium. Game starts at 7 p.m.
READ ALSO: VIDEO: Vancouver FC fall to Ottawa
READ ALSO: VIDEO: Vancouver FC's very first home game ends with a tie
---
Have a story tip? Email: news@langleyadvancetimes.com
Like us on Facebook and follow us on Twitter.