It's probably one of the only dungeons in Chilliwack, and it was built just in time for Halloween.
Rob Forde recently transformed a crawl space corridor into a dungeon for homeowners Sherri and Mark Gore. But the Gores' home isn't your typical house – it's a custom-built castle.
They prefer an old and rustic look, not new white walls with straight edges, Mark said. Their home has been a work-in-progress for the past seven years and they moved into it a year ago. When Forde saw the castle, it was the both the exterior and interior that gave him inspiration to create the dungeon.
The corridor, which is now a dungeon, is a small area with 10-foot high ceilings that leads to the Gores' crawl space.
At the top of the stairs leading down to the dark space, the words "beware la oubliette" are carved into the ceiling. 'La oubliette' is French for 'pit dungeon,' Forde said.
"That's the most famous kind of dungeon, the kind where they just throw the guys in the pit and then walk away," he said.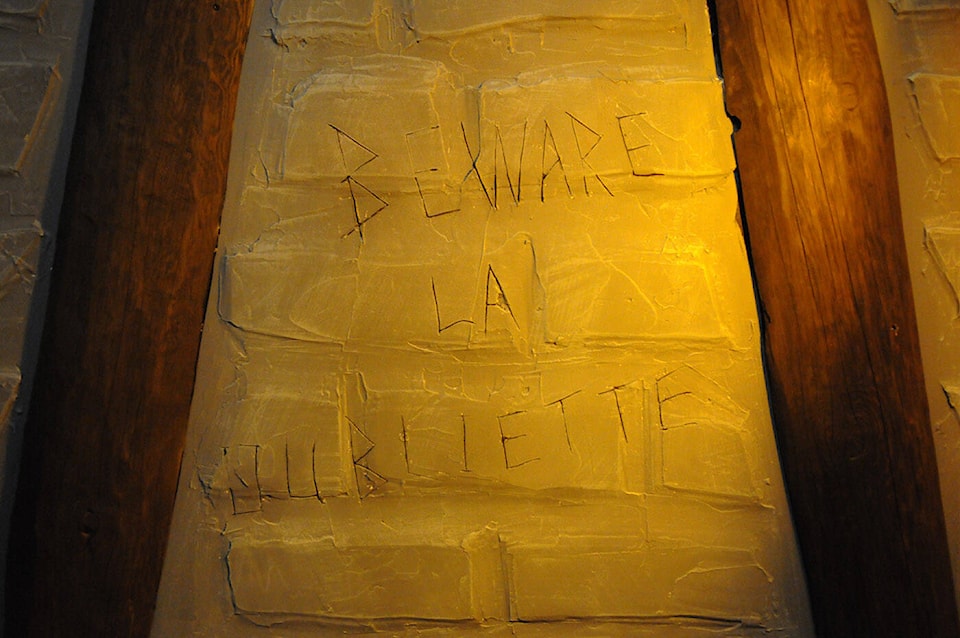 It took about three months for Forde to transform the space. He used a variety of items like a metal gate and a lock that were just lying in the Gores' crawl space, plus a shield they had. Forde found other things at auctions, used beams of wood from a local barn that was torn down, and got his hands on a 'tongue' from a horse wagon that he used as a stairway railing.
What looks like a stone-carved ceiling is actually Styrofoam that's been cut out and painted grey. A wooden bowl sitting on a table for the 'prisoner' is actually an old cheese press from a Dutch family in Yarrow.
Forde even etched names in a beam like Guy Fawkes and Dick Turpin.
"They all spent time in here," Mark joked.
Many items were incredibly hard to find, but bit by bit, it finally came together.
"Bringing everything together to create something that's from 500 years ago, that's the key," Forde said.
They call it a 'Disney dungeon' – a place that's scary, but not too scary. And it's not just a uniquely designed space, it's also functional.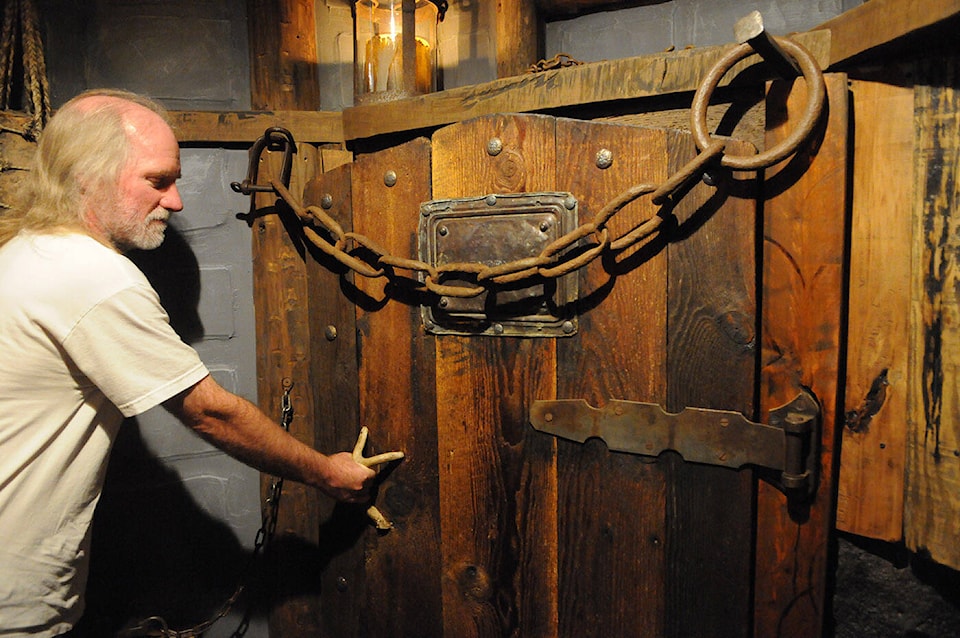 On one door, Forde used an old piece of logging chain and a deer antler for a handle. It seems like the door would lead to an underground tunnel, but when you open it up all that's visible is a piece of plywood and water pipes with shut-off valves.
"All of this is mean to be practical, so they can access their water shut-off and it's nice and safe, but at the same time have fun with it," Forde said.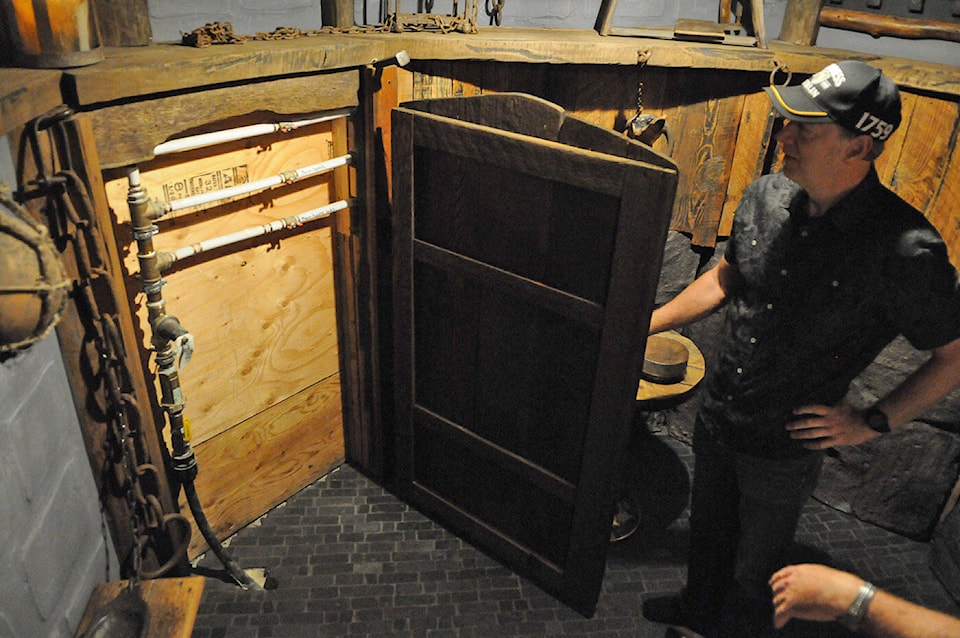 They connected about three years ago when the Gores were looking for a shield and found one that Forde was selling for $50.
"I really like weird stuff," Mark said. He added that he and his wife often find things that no one else wants, which brings the cost down quite a bit.
Forde has been transforming private basements and garages into mini pubs and other unique spaces for years.
READ MORE: Chilliwack man creates unique themed spaces in your own home
The Gores invited Forde into their castle home a few years ago and Forde threw ideas at them. The Gores liked his suggestions and so he did a few small projects including an arched ceiling and a door, but the dungeon is his biggest project in their home.
"Every castle has a dungeon," Forde said.
He's been to about 10 castles in Ireland, England and Scotland which is where he got most of his ideas to create 'la oubliette.' Sherri also threw some great, creative ideas at him, Forde added.
But, he wouldn't let the family see it while he was working on it.
"He hid it from us until the finale," Gore added.
Forde used a blanket in the doorway leading down to the crawl space so the Gores couldn't see what was going on in the dungeon.
"I wanted to have some kind of a reveal because that's what they do on TV. That's the funnest part."
Forde finished the dungeon in time for the Gores to show it to family and friends for Halloween.