A strong third period was not enough for the Langley Thunder as they could not shake off a terrible first two periods, falling 13-8 to the New Westminster Salmonbellies.
The two teams were playing in BC Junior Tier 1 Lacrosse League action on Tuesday night, May 9, at Langley Events Centre.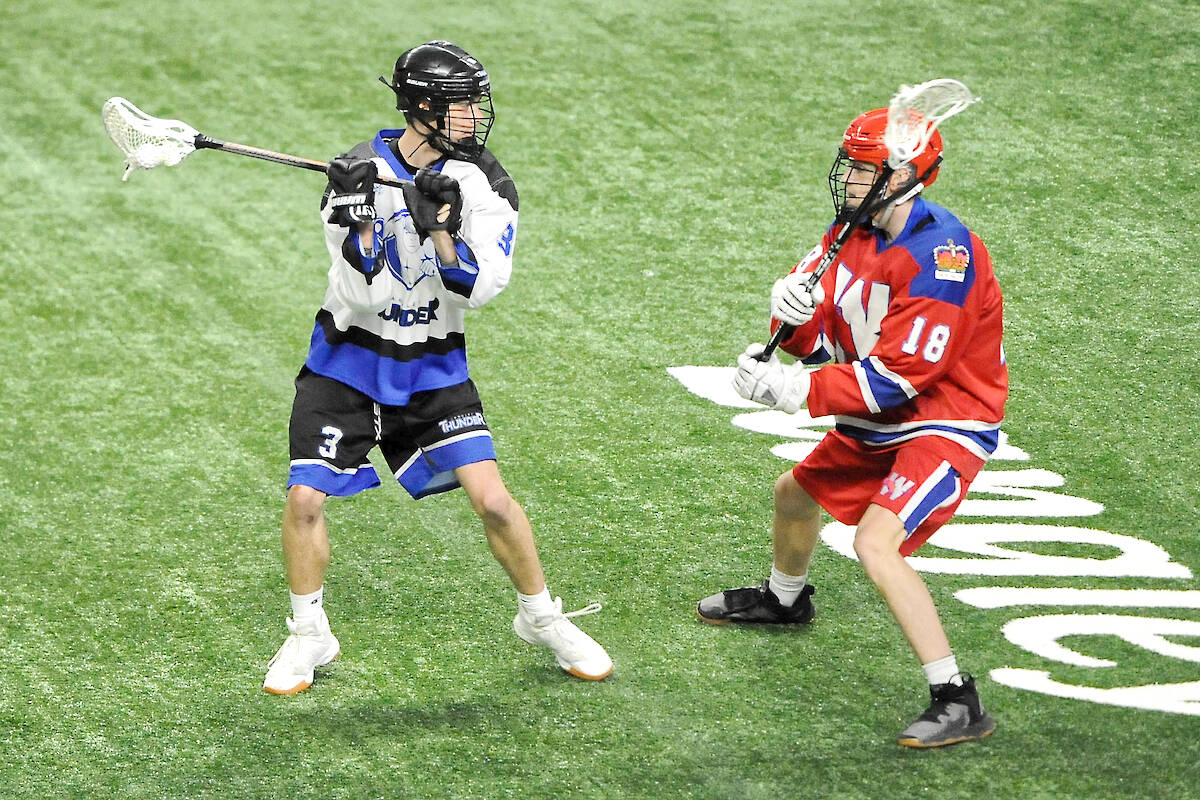 "We couldn't do anything right those first two periods. We couldn't win a face-off, we couldn't get a loose ball, our defence wasn't good, and our offence can't score two goals in one period, one goal in another period, it is just not enough," said Langley coach Darren Buchan.
"At the end of the second period, the shots were 28-27; the problem was, the score was 11-3."
"This team is young (and) every game is going to be a battle. Some games they are going to come together, and other games, they are going to lose focus," Buchan said. "We asked them to stay focused, we asked them to win the period, and we asked for a 5-on-5 goal because we hadn't got one yet."
The Thunder accomplished all three of those as they scored a trio of 5-on-5 goals and won the period 5-2 as the players responded with a solid final 20 minutes. Another bright spot for the Thunder was special teams as they scored four power-play goals while New Westminster was only able to manage one man-advantage goal and one short-handed tally.
Langley was led offensively by Vaughn Pinchin, who scored three times and added an assist, and Connyr Welch, who had four helpers. Kai Sephton and Dane Hiebert potted a pair of goals apiece while Teagan Dunnett made her season debut, finishing with a goal and two assists.
Both Thunder goalies saw action with Tenzin Fernandez making 14 saves in 19 shots while Charlie Lort finished with 13 saves on 21 shots.
Simon Poole and Kayden McIntosh led the Salmonbellies as they each had two goals and five points. Aidan Holt made 29 saves in the New Westminster net.
Langley, whose record fell to 1-3 with the loss, is back in action on Saturday, May 13, as they visit Victoria to face the Shamrocks.
Thunder then host the Nanaimo Timbermen on Sunday, May 14, at 2 p.m. at Langley Events Centre.
READ ALSO: Langley Thunder opens season with pair of losses
READ ALSO: Season ends for Langley Tier 1 Thunder
---
Have a story tip? Email: news@langleyadvancetimes.com
Like us on Facebook and follow us on Twitter.