Tiffany Foster is coming home again.
Home, in this case, is tbird in Langley, the venue that Foster, the highest-ranked Canadian rider in the world, views as instrumental in her development "as a rider coming up through the hunter and equitation divisions and then my return as a jumper rider."
But soon, home will also be a new stable, currently under construction in Langley, that will serve as Foster's base during the summer.
"I love coming back to Langley, so much, in fact, that I have decided to base here for the summer," said Foster, who originally hails from North Vancouver, and currently splits her time between B.C., Florida and Belgium.
"I am in the process of building a new stable with my good friend and client Wendy Valdes, who happens to own part of Hamilton."
Foster, who has competed in every Nations Cup event that Thunderbird has hosted, remarked that "every year I looked forward to coming to see my friends and family so I decided to make that a little more of a permanent thing and I'm so excited about this move home."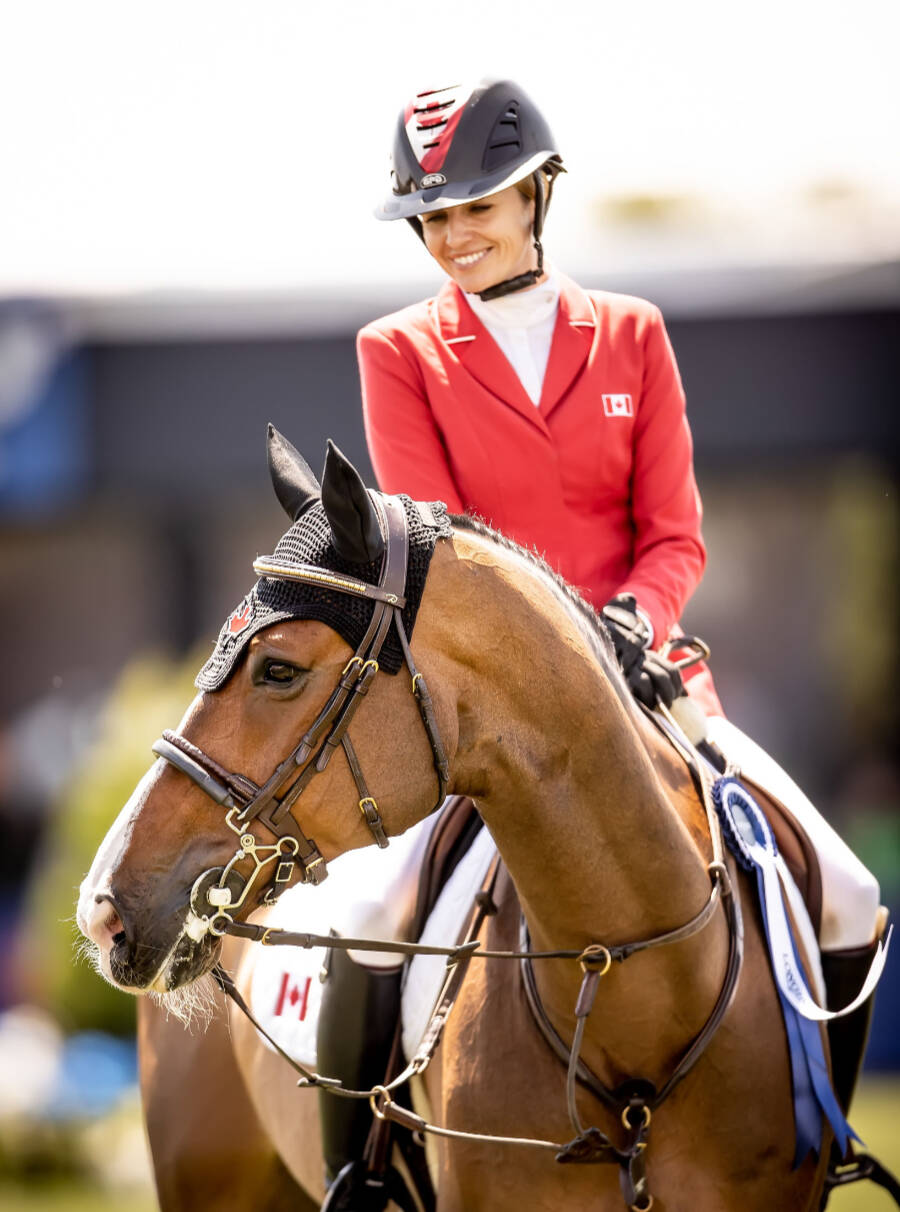 She was full of praise for tbird, which has been hosting the Nations Cup since 2016.
"It is as nice of a facility as you can find anywhere in the world and I am so proud of what Jane Tidball, Chris Pack and their team have done; their commitment to bringing high level showjumping to BC is something that has changed the landscape of our sport in Canada," Foster summarized.
"Without them, I wouldn't be able to be moving home so I am eternally grateful," she added.
READ ALSO: VIDEO: A first five star Grand Prix win for Langley champion rider Tiffany Foster at tbird
Tbird is where Foster began her career, and where she even resided for awhile, during the worst of the pandemic.
She began taking lessons when she was eight, at the North Shore Equestrian Centre, then moved to tbird in her teens to train with Brent and Laura Balisky, where she ended up working for them, riding, teaching and managing their stables until she was 21.
Foster will be competing for Canada at the Sunday, June 4, Longines Fédération Équestre Internationale (FEI) Jumping Nations Cup at tbird.
She will be riding Hamilton, a 12-year-old Holsteiner gelding, owned by the Hamilton Group, who was developed by Foster at tbird during the pandemic.
"He has really matured in the last year or so and turned into a very reliable partner," Foster noted.
"He posted a clear round in this event last year, so I am hopeful for a strong result with him this year."
Foster praised Hamilton for possessing a "very stoic, dependable personality," describing him as "an exceptional athlete with a kind heart – all the things you want in a world-class show jumper!"
VIDEO: Langley's Tiffany Foster clinches win for Team Canada at Longine FEI Jumping Nations Cup
A confident Foster is predicting a win for Canada at tbird.
"Canada is third but only behind Mexico by 20 points," Foster commented.
"We are fielding this team with our A-squad riders on home turf, so I predict a win!"
Foster and the Canadian show jumping team rode to a third-place finish in the Longines Jumping Nations Cup of Mexico in April, ending up behind second-place Mexico and first-place USA.
On May 14, at the San Juan Capistrano Nations Cup, USA finished first, Ireland was second, Mexico third, and Canada was fourth. Foster did not ride in that event.
Currently, heading into the tbird event, the USA leads the FEI North and Central America and Caribbean division with 200 points, Mexico is second with 170 points, and Canada is third with 150. Two teams in the division will go to the Longines FEI Jumping Nations Cup final in Barcelona, Spain Sept. 28 – Oct. 1.
READ ALSO: Langley's Foster leads Team Canada to podium finish in Mexico
In June of 2019, it was Foster, who had never won in a jumper class of any kind at tbird, who clinched the first-ever victory for a Canadian team at the tbird Nations Cup by knocking down just one rail in the second round riding Figor, a nine-year-old Dutch Warmblood gelding.
That sewed it up it up for Team Canada, which had needed a four-fault score or better, and it meant the rest of the Canadian team did not have to jump a second round.
Foster, currently ranked 52nd in the world, has ridden for the Canadian equestrian team at the 2012 London Olympic Games, the 2014 World Equestrian Games in Normandy, the 2015 Toronto Pan American Games, the 2016 Rio Olympic Games and the 2022 Herning FEI World Championships where she finished 12th individually.
The Nations Cup is happening on Sunday, June 4, with activities from 11 a.m. to 5 p.m. at tbird.
On Friday, June 2, competitions run 10 a.m. to 4 p.m.
The Saturday schedule runs from 10 a.m. to 5 p.m.
And Sunday's big $400,000 Longines FEI Jumping Nations Cup is from 2 to 4 p.m. with gates opening at 1 p.m.
General admission for the Nations Cup is $10 per person, while children five and younger are admitted free.
Spectator tickets for the Nations Cup can be bought online at tbird.ca.
The public is asked to enter the gates at 6975 248th St.
---
Have a story tip? Email: dan.ferguson@langleyadvancetimes.com
Like us on Facebook and follow us on Twitter.